What is CPanel? Tutorial and explanation for beginners
What is CPanel and why do you need it?
Similar to WordPress, cPanel is a user interface that makes a complex system more manageable for developers and the average user.
You often see cPanel is the main control panel for shared hosting accounts. For example, Bluehost (review), HostGator (review) and GoDaddy all use the cPanel interface.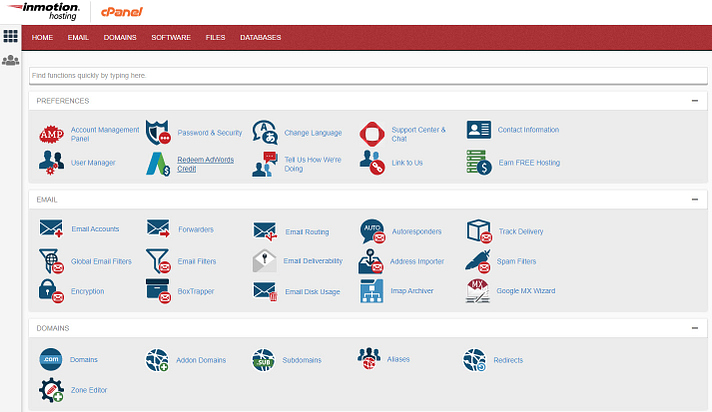 In short, cPanel provides the navigation, buttons, links and graphics needed to make file storage and management easier, more human and easier to understand.
Some areas you can manage on cPanel include:
Company website design.
Install the software, just like installing WordPress.
Create and manage email accounts.
Manage and create domains and subdomains.
Database search, backup and management.
User management.
Password and security.
More and more.
Without cPanel's help, only people with advanced technical knowledge can manage the server or website for that problem.
The cPanel interface is the control center of most shared hosting services, along with a number of other managed options. However, managed WordPress servers often create their own online interfaces.
Overall, cPanel narrows the gap between complexity and user friendliness. It is still a bit scary for many people just starting out with hosting. However, it is one of the best solutions for managing your website files without having to hire a developer.
How to access cPanel and login
You can only get cPanel if your server uses it.
If that is the case, your server will provide you with a direct link that you can log in for full access. For example, this is how it works at InMotion Hosting.
If you can't find the link, here's what to do:
Go to your browser and place the cursor in the address bar.
Enter your website URL.
If your site starts with http, please add :2082at the end, like this: http://www.examplesite.com:2082.
If your site starts with https, please add :2083like this : https://www.examplesite.com:2083.
Log in using the username and password provided by your server. Most servers send these credentials in a welcome email - you can contact server support if you can't find them.
What is CPanel? Features and main part
The cPanel dashboard will look different depending on the host. This is due to the host's brand and the way the company decides to organize cPanel. So Bluehost customers will see different factors than those with InMotion Hosting.
However, the main parts and features of cPanel remain the same on all servers that use it.
Install WordPress from cPanel
Most servers provide you with a software installation tool in cPanel that makes it easy to install WordPress (or other open source content management systems like Drupal or Joomla).
You can usually find the WordPress installation tool in a section called Scv Application Installer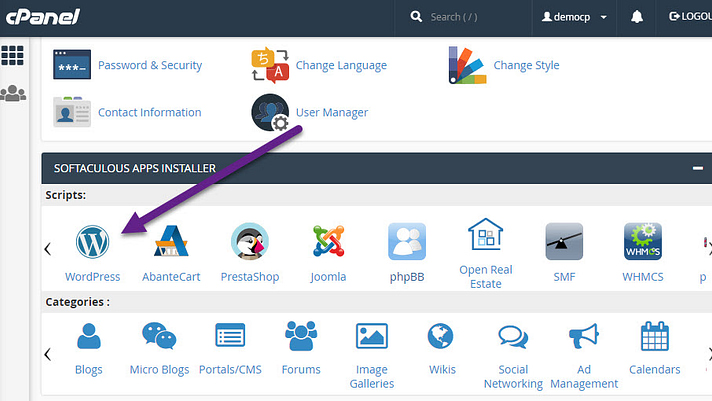 Every host is different, but the WordPress installation process is generally the same. Go through the steps on the screen by creating your WordPress login information. You will then be shown a URL to login to your WordPress dashboard.
Domain management on cPanel
cPanel also allows you to manage all domains and subdomains associated with your hosting account.
Find section Domain to manage everything from addon domains to redirects.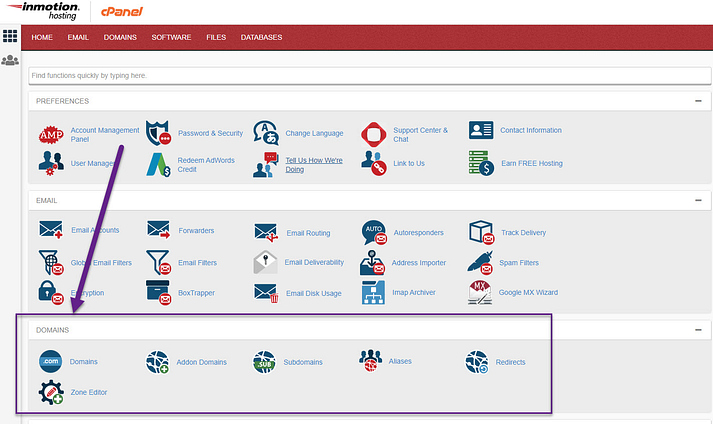 The main buttons for managing include:
Domain - Add new domain for newly installed WordPress website.
Domain name Addon - Create additional domain names that you can park or incorporate into other websites.
Aliases - This is where you can link other domain names to your main domain. Additional features act as Wikipedia aliases, in which the site is available on all domains you specify.
Navigation - Get certain URLs and send them to other URLs.
Subdomain - Make subsections of your website instead of buying and managing an entirely new domain name. An example of this would bestore.example.com.
Email management on cPanel
Business email provides a professional interface, where you take your domain name and add it to your email address, with similar content [email protected].
CPanel dashboard included section Email to add and maintain these email addresses.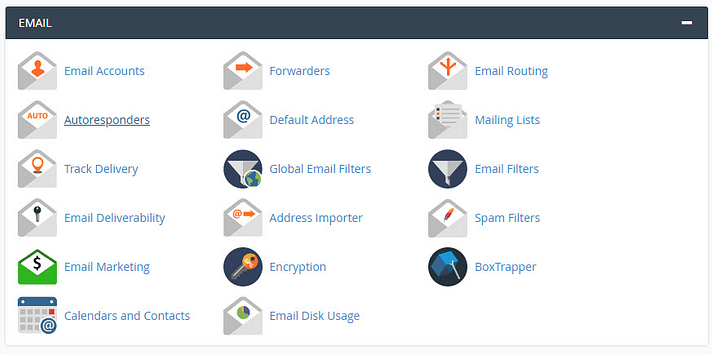 As you can see, pretty much every option shown in the cPanel version I have in the screenshot. Some of them include:
Email accounts.
Automatic reply.
Delivery.
Email routing.
Spam filter.
The most important area is the link Email Account .
This is where you add and manage your business email address.
You already own the domain name connected to this cPanel, so click the button Email account to create emails for your business.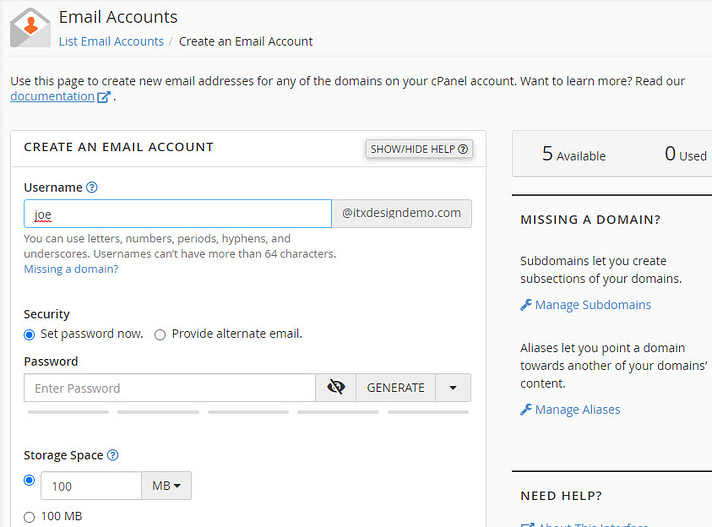 Select the button Create, then enter the username for your email address. You can also adjust settings such as passwords, storage and folder creation.
File manager on cPanel
Part File cPanel includes all site files that make your website work. WordPress files include folders for themes, plugins, media and more.
Your WordPress files are hosted on the host server, so that's really the main reason why you need to host in the first place.
The cPanel dashboard has features to view these files, back them up and change them completely.
To access your website file, go to the section File , then click File manager .
Here, cPanel allows you to add files and directories and upload files that may be missing. For example, you can upload a theme file here instead of through the WordPress dashboard.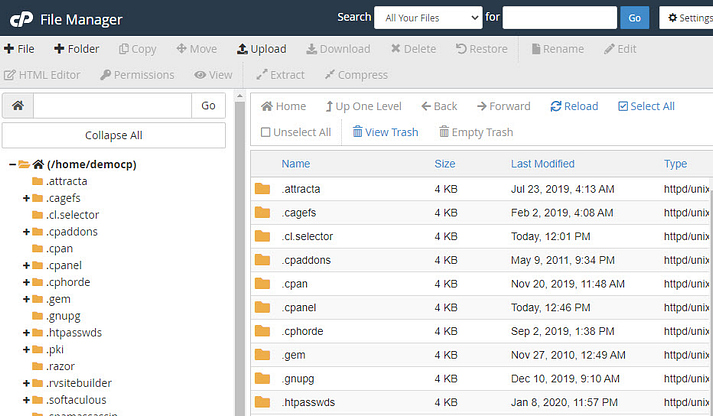 You can also use section File to find details for connecting via FTP, check disk usage and more.
Many servers also provide file backup tools. This is becoming more common for hosts, so this is where you can schedule how often you want to run the backup and locate the recovery files in the event of a problem with your website. .
Database management on cPanel
Most hosting users never touch their database, but at least know where they are in case you need to modify something, or if you need to move the database.
At the most basic level, website database stores data.
Data can be anything from users to ecommerce product information. All this is recorded in a large list, sorted data so that your site can reference it at any time.

You probably will never touch any of these buttons. However, the most commonly used options include database phpMyAdmin and MySQL .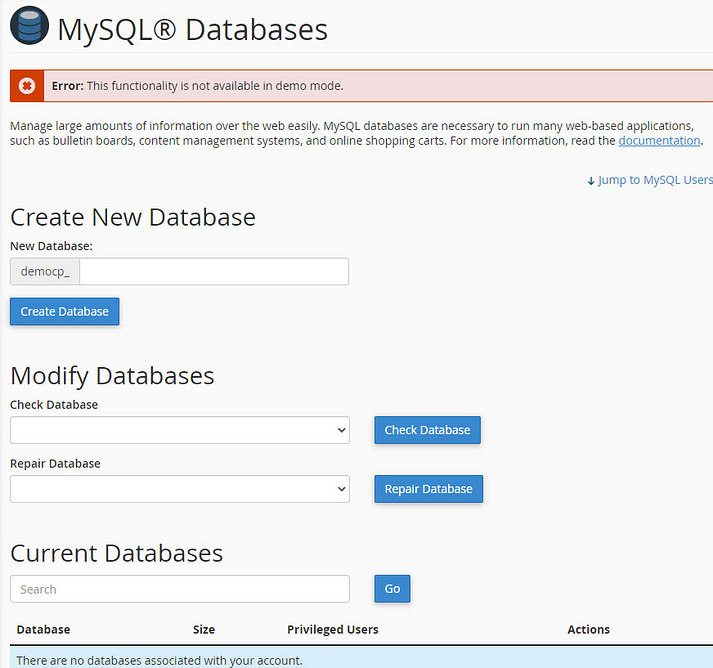 You can create an entirely new database in these areas and see which databases are currently active in your site files. More often than not, you can talk to the host's support team if you need to create a new database or modify an old database.
What else do you know about cPanel?
CPanel dashboard is designed to make website hosting more appealing to the average user. It can be helpful to add your own email, create backups and check files.
Most low-cost web hosts use the cPanel control panel, so you will probably encounter it when you are new to your site.
If you haven't already chosen a server and want to find a host that offers cPanel, you can see our review of some popular cPanel hosting services:
Bluehost
InMotion Hosting
Host
Archive A2
About My name is Nguyen Manh Cuong. I was born in a poor village in Ba Vi district, HA NOI province - windy and sunny land. Currently. https://www.nguyendiep.com/. Mr Cuong.