Watch videos Facebook, Youtube with PIP mode on Edge Chromium - Knowledge sharing blog
Note: Please read the article carefully before proceeding! If in the process of using you encounter any errors, such as broken download links, slow loading blog, or not being able to access a certain page on the blog ... then please inform me through the Contact page. Thanks!
Video view in the form of floating windows, also known as the name Picture-In-Picture has been added to some popular web browsers for quite some time now.
In general, this feature has received a lot of positive welcome from the user.
Although using this feature is extremely simple, but the truth is that not everyone knows and uses it. Such a good function that we do not use, I feel that it is too wasteful 😀
So in this article I will show you how to turn on and use the Picture-in-Picture feature on the Microsoft Edge Chromium and Google Chrome web browsers, the two most popular browsers today.
Read more:
I. How to watch videos on Facebook, Youtube with Picture-In-Picture mode on Chrome, Edge
A little more for you who have not envisioned this mode: Picture-in-Picture mode allows you to watch videos while doing other tasks on a computer, such as playing games, or typing text, etc.
If you do not have an image, you can go to Youtube or Youtube Web app on your smartphone => and open the video and drag it down to the right corner of the screen with your hand, now you can search for another video or surf the community tab of Youtube, so is the Picture-In-Picture mode.
Method 1: No extension is required
This mode is now available in the 2 web browsers that I mentioned above, and the activation is very simple too.
First, upgrade to Google Chrome to the latest version, or if you are a Microsoft Edge Chromium web browser, upgrade to the latest version according to this tutorial (in the section III guys)!
The test is as follows, applicable to all browsers: type in the address bar chrome://version => okay Enter is to be.
I use Edge Chromium then I will type is Edge://version. The version number will be right after the browser name, underlined below, guys.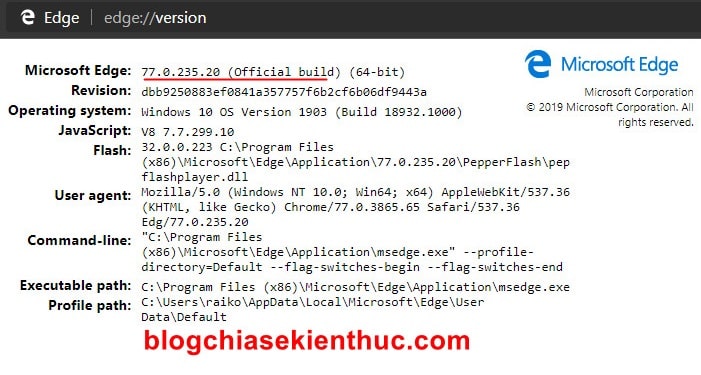 If it works, you should open any video, here I take a video on Youtube for your convenience.
First right-click on the Youtube video, remember Right click 2 times because if you just click once, it will only open the YouTube Menu only.
In the menu, you will immediately see the line Picture-in-PictureYou can click on that.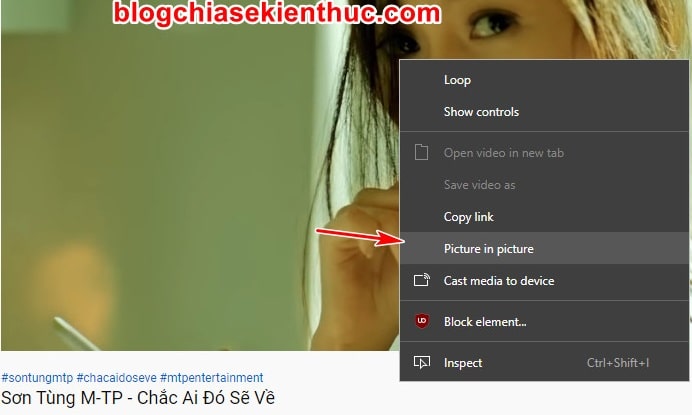 Now you can do the other things you want, and this video will follow you. You can click and drag to change the position of the floating video on the screen, the sign icon X to close and stop playing that video.
Zoom icon to exit and return to the normal video player, and finally the icon Pause/Play I don't need introductions anymore: D. A faster way to exit this mode is to close the video play tab.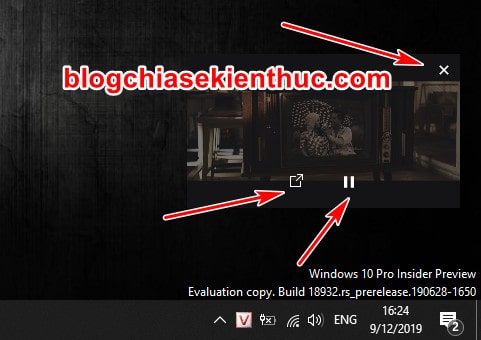 Method 2: Use Picture-in-Picture Extension (by Google)
If for some reason your web browser still doesn't support this feature, don't worry, we can still fix that problem with a utility called Picture-in-Picture Extension (by Google)
This is a utility created by Google itself, so you do not worry about compatibility. Access and install utilities here !

Then right-click on the utility icon => and select Manage Extensions, in the settings page look for and check (enable with Chrome) the option Allow access to file URLs we have finished the application setup.
Now, open any video up => and click on the icon of this utility, immediately the mode Picture-in-Picture will be enabled.
The interface of Picture-in-Picture of this utility is no different from Picture-in-Picture Where is the default browser?
II. Epilogue
So I just showed you the 2 easiest ways to be able to activate and Use Picture-in-Picture mode of Microsoft Edge Chromium and Google Chrome The easiest way already.
If you have any questions or problems, please leave a comment below. Good luck !
CTV: Nguyen Thanh Tung - Blogchiasekienthuc.com
Note: Was this article helpful to you? Do not forget to rate the article, like and share it with your friends and relatives!
About My name is Nguyen Manh Cuong. I was born in a poor village in Ba Vi district, HA NOI province - windy and sunny land. Currently. https://www.nguyendiep.com/. Mr Cuong.