Timer off, restart the computer with Wise Auto Shutdown - Knowledge Sharing Blog
Note: Please read the article carefully before proceeding! If in the process of using you encounter any errors, such as broken download links, slow loading blog, or not being able to access a certain page on the blog ... then please inform me through the Contact page. Thanks!
I think many of you here are using timer software to remind you to do something when you are using a computer, right? because one day we have so many things to do right.
As you know, when sitting in front of the computer, we sometimes work too hard and forget about time.
I'm also using a software that supports timer shutdown, sleep, restart the computer at home. The reason is that at night, after I have finished my work, I often watch movies late so I often fall asleep whenever possible 😛
But letting the computer hang all night is very power-consuming and harmful, so the solution to turn off the computer is a perfect option at this time. And the software I use is Wise Auto Shutdown - a software introduced by a friend from the publisher WiseCleaner 😀
Read more:
So in this article I will share details for you how to schedule a Windows computer shutdown using Wise Auto Shutdown!

#first. About Wise Auto Shutdown
Wise Auto Shutdown is a free software developed by WiseCleaner - they provide a lot of solutions to optimize the performance of Windows, enhance the security of Windows systems, as well as develop many other utility tools.
If you have used the Wise Hotkey software to set up a shortcut on Windows 10, or Wise Key Finder to review the Windows 10 license key, it is probably not strange with the name WiseCleaner anymore.
As the name implies, the main function of Wise Auto Shutdown is to automatically shutdown, restart the computer, hibernate (Hibernate), sleep (Sleep) or log out of Windows 10 according to the time you have set. before.
For those who do not know Hibernate and Sleep mode on the computer: How to turn on Sleep and Hibernate on Windows 7/8/10
I think this software has received a lot of positive reviews from users through famous software download sites such as CNET, ZDNet, ...
And in fact, since I started using it, Auto Shutdown has never let me down 😛
#2. How to install Wise Auto Shutdown
Because this is a completely free software, you can visit the homepage of Wise Auto Shutdown here To download => and then click the button Free Download to use in the middle to download the installation file.
The version at which the post was written 1.7.6, capacity only 1.72 MB. Or you can download it here (the version I use to guide in this article)!

This software supports Windows 7, 8, 8.1, and Windows 10. Supports both 32-bit and 64-bit versions of Windows, so you can safely download and use, unfortunately not support MacOS: (((

Download finished, double-click the file *.exe to start the installation of Wise Auto Shutdown => the window showing the terms of use is not very long => you check I accept the agreement => okay Next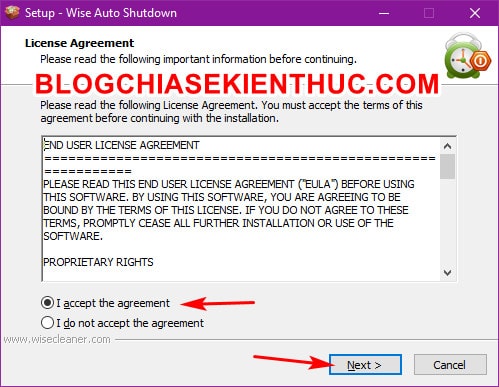 The following steps are very simple, you just press Next => okay Install constantly so I will not continue the tutorial, you are completely capable of doing it yourself.
Finally at the window Completing Setup Wizard hey, leave the box unchecked View the introduce and released log to run the software as soon as the installation is completed without having to see the introduction and version history.
Finally click Finish to complete. Done installing the dentist you.
# 3. Manual Wise Auto Shutdown to schedule the computer to shut down
Open up you will have a software window Wise Auto Shutdown with the interface as shown below.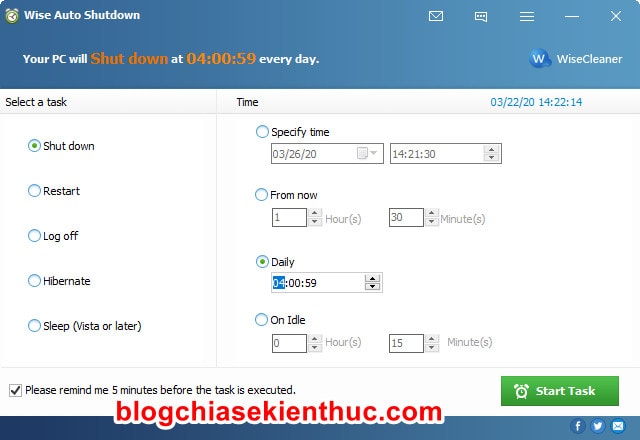 By default this interface will use English as the main language, but you can completely set it to Vietnamese language for ease of use.
Perform: Click on the 3 tiles in the right corner of the window and move the mouse over the line Language, scroll down to the bottom of the list and select Vietnamese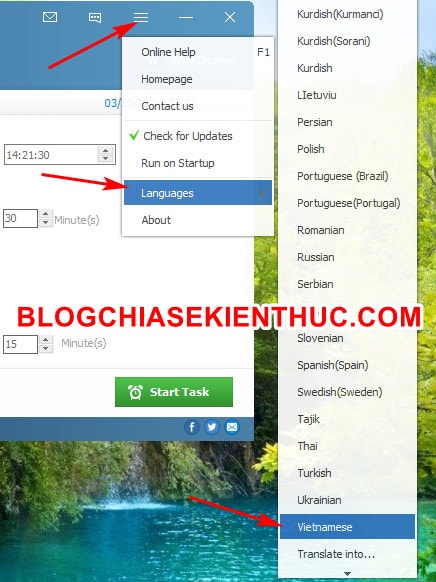 Currently, the Wise Auto Shutdown software supports 5 actions that is : Shutdown, To sleep (Sleep), Hibernate (Hibernate), Restart and Log-off with the following timer types:
Specify Time - Time regulation: Support you choose the specific date and time you want, and of course this task is only done once after you click the button. Start Task, because the year doesn't repeat like the date or time, every time you finish using it, you will have to reset it.
For example: I choose the task is Sleep, set the date is 22/4/2020 12H00P then on 12H on 22/4/2020, if the computer is on it will automatically go to sleep (Sleep).
From now - From now: Allows you to select the amount of time the computer will perform the selected task, after you press the button Start Task.
For example: I choose the task is Shutdown, set the time to 2 Hours 0 Minutes => and I press the button Start Task at 12H => then at 14H (12H + 2Hours) the computer will automatically shut down (if active).
Daily - Daily: Select a timeline and the computer will automatically turn off daily at the right time. This is suitable for those who want to manage their children's computer time, not to play games overtime, etc.
On Idle - Freezes: Here you can set the computer to turn off automatically after a period of inactivity, in standby mode.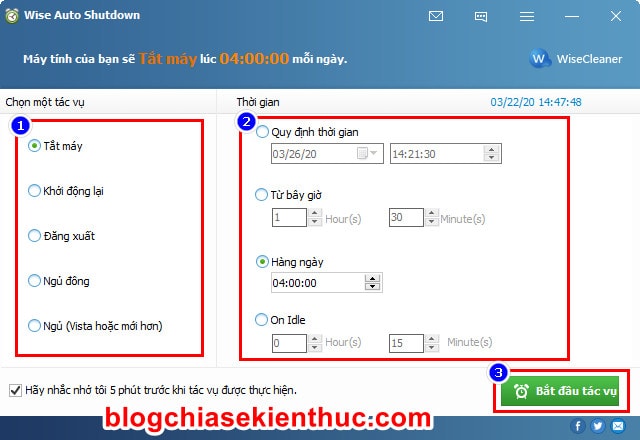 The way to schedule a task is extremely simple, open the software, select the task you want to perform => Select the timer mode and select (date) time => and then press Start Task (Start task) is done.
In addition, the software also has the function to remind you 5 minutes before the task is automatically performed, you can press Hủy bỏ to cancel a task that has been scheduled before, or keep that window so that the computer can perform the task that you have set.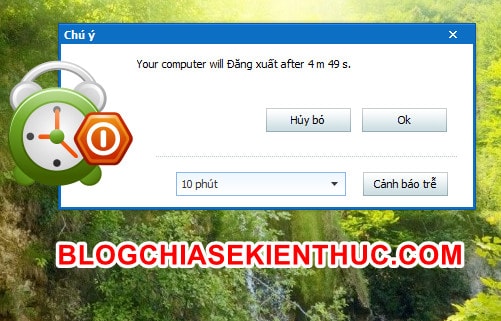 # 4. Epilogue
So I have finished sharing for you how to use Wise Auto Shutdown software to shutdown timer, timer restart the computer Windows ... in an extremely simple and professional way. A small but very useful procedure, isn't it.
But when you use it, you should also note that help me to make a timer for accuracy, lest you squeeze yourself **, turn off the device while playing games, or do not work yet to save it 😛
Hopefully this article will be helpful for you. Good luck !
CTV: Nguyen Thanh Tung - Blogchiasekienthuc.com
Note: Was this article helpful to you? Do not forget to rate the article, like and share it with your friends and relatives!