Theme Flatsome - Theme Wordpress Sales # 1 In 2020
Free to browse the forums, groups about WordPress to see how people talk about WordPress theme sales. I see most people mention it Flatsome theme as Best selling theme today.
Actually looking through the demo and refer to many web designs designed from the Flatsome theme, I feel fascinated by the fast loading speed, beautiful interface and easy customization. So I also boldly down to buy money immediately Copyright Flatsome theme about to use.
This is a screenshot of my account on Themeforest not everyone told me to chat.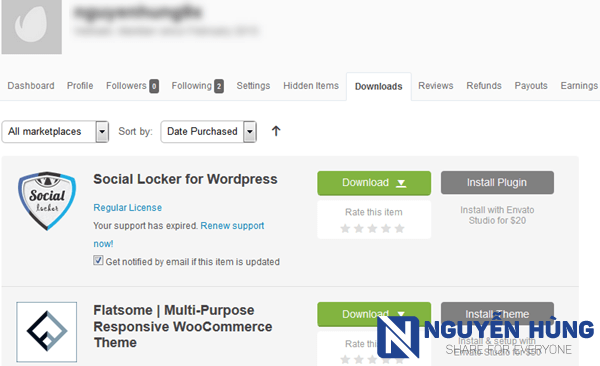 After 1 period of use Flatsome theme I see, it is no coincidence that it is so chosen by many people (more than 110K sale, the value earned is more than half a million dollars). And rated 4.8 / 5 stars out of more than 5K reviews. Too terrible!
I have also experienced many different sales theme templates, and I also boldly put this Flatsome theme to the top of the list of the best WordPress sales theme today.
Well, no more rambling, this article I will share more deeply for you to understand more about the hegemony of the Flatsome theme.
What can flatsome do?
Just like any other WordPress theme, the Flatsome theme is just as well Used to create the interface for the web never mind. But just maybe not say anything, the Flatsome theme has something called Live Page Builder for you Building website interface is extremely simple and beautiful.
You can use the Flatsome theme to Building online sales shop, company introduction website, landing page sales page and I see people using the Flatsome theme to make a personal blog always.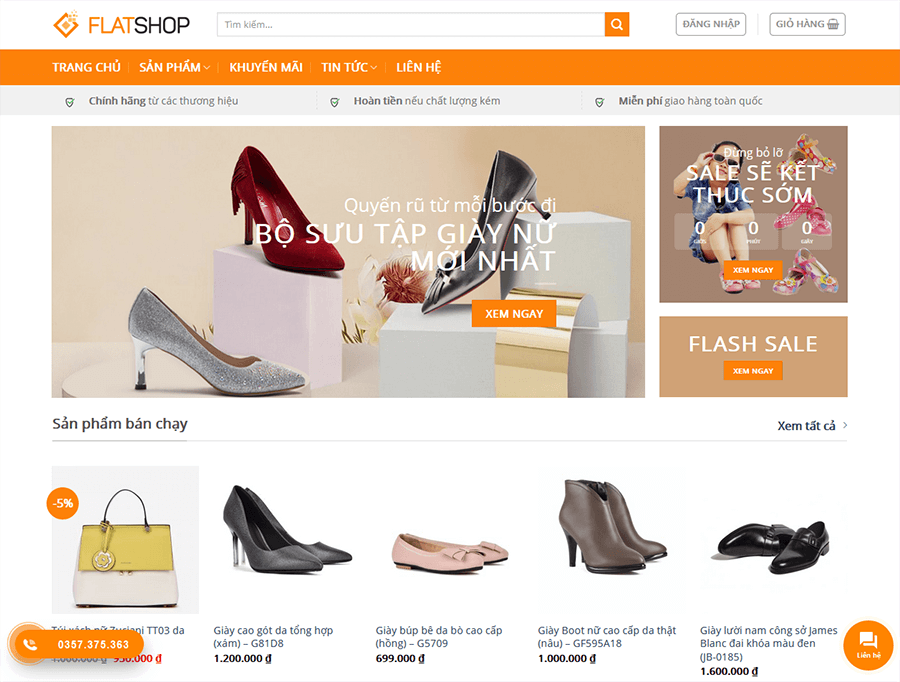 Generally with the Flatsome theme you can unleash unlimited creativity. Here are some highlights and drawbacks that I draw after using this theme.
Advantages of the Flatsome theme
Nice design, easy to customize even for people who don't know the code because UXBuilder tool is easy to drag and drop.
Fast loading speed because the code is extremely clean and tidy. If you know the code, you can read the code and see how their writing is professional.
SEO standard structure - Flatsome theme is made SEO standard with code structure compliant with SEO documents from Google.
Optimized for mobile helps the mobile interface to see at a glance and fast loading speed on mobile
There are many sample interfaces to import a demo with 1 click. Sample interfaces support all categories.
In the recent version, the Flatsome theme has an additional sticky button Add to Cart (fixed order button at the bottom of the page) which is very helpful to call for a purchase action.
There are extensive and detailed documentation that is easy to understand (See the documentation here). In Vietnam, there is a community of users of the Flatsome theme supporting each other to customize the interface very diverse.
Be updated very often.
Cons of the Flatsome theme
As a sales theme, Flatsome supports making the web sales best. Also the news page interface is not very nice so you will have to customize it.
There are some parts for me it is not very nice so have to customize it with beautiful new CSS.
Those are all the pros and cons that after a long time using this theme I can summarize and share with you.
Some experience using the best Flatsome theme
Remember, the original Flatsome theme was very well optimized. However, I know that in the process of using you may have to install some plugins or use some custom code that ae in the community share. That inadvertently will probably make the sales web using your Flatsome theme load slower.
Below, I will share some experiences that I have done and summarized so that you "know and avoid" lest the web load slowly.
Limiting external code loading data such as code like and share Facebook buttons, code insert fanpage, code insert buttons to share social networks.
Only attach codes like tawk.to chat, facebook chat code, etc. when absolutely necessary. And should attach code through Google Tag Manager.
You want to create more functions for the web, so you have to install a bunch of plugins? Everyone wants the web to have a lot of cool functions, but please consider the benefits before trading in speed for web loading.
Do not install multiple plugins with the same main function. For example, installing the WP Rocket plugin should not install the Super Cache plugin or if you have installed the Yoast SEO plugin, the Rank Math SEO plugin should not be installed and vice versa.
Optimize product images before uploading on the web. Many of you have very large image sizes up to 3000px while the supported product sizes are only about 500-600px.
Choosing the best hosting, VPS helps ensure fast and stable loading speed: If you buy hosting, VPS in the country, you can choose appropriate packages from reputable providers such as AZDIGI, HostingViet, ... And with hosting , VPS of foreign countries you can choose to buy from Hawkhost, HostGator, Vultr and remember to choose server Hong Kong, Japan or Singapore.
In addition, you can refer to your guide to speeding up WordPress to be able to optimize some other items to ensure the best web loading speed.
Where to buy Flatsome theme cheap, prestigious?
I know there are many people who want to make a sales web, build an online business shop and want to use the Flatsome theme. However, the cost to buy a theme directly from the author is for some people a huge amount of money.
For me, I still encourage you to buy directly to use and support the author. However, if you do not have the conditions, I would be happy to share this theme at a cheap price. That is how you share the cost you have spent to buy this theme.
You can purchase the Flatsome theme license directly on Themeforest for $ 59 (nearly 1 million 400) on this link. Or you can redeem from yourself with price 150K And you will be supported to update comfortably.
Epilogue
Above is some information about Flatsome theme, hope it will help you have a better view of sales theme number 1 this.
In fact, the Flatsome theme is worth using when it supports creating many different sales web templates quickly that even people who don't know the code can do.
Are you using this Flatsome theme to make an online sales website? How would you rate this theme? Please share your thoughts in the comment box below.
About My name is Nguyen Manh Cuong. I was born in a poor village in Ba Vi district, HA NOI province - windy and sunny land. Currently. https://www.nguyendiep.com/. Mr Cuong.