Should I update to iOS 13.4? Which machine should be on - Knowledge sharing blog
Note: Please read the article carefully before proceeding! If in the process of using you encounter any errors, such as broken download links, slow loading blog, or unable to access a certain page on the blog ... then please inform me through the Contact page. Thanks!
As you know iOS 13.4 operating system has been released for nearly 2 weeks, but maybe many people still dare not update it for fear it is unstable.
Yes, after I took my iPhone 6s as a white mouse, I found it: it's not good. Specifically, what is this iOS error? Find out in this article!
Read more:
#first. Evaluation of iOS 13.4
First: Let's talk a little bit about this iOS 13.4 version. This is a major iOS addition and bug fix, so there are not many new features. Specifically, iOS 13.4 will still be available on iPhone devices from 6S and above, and the update content is as follows: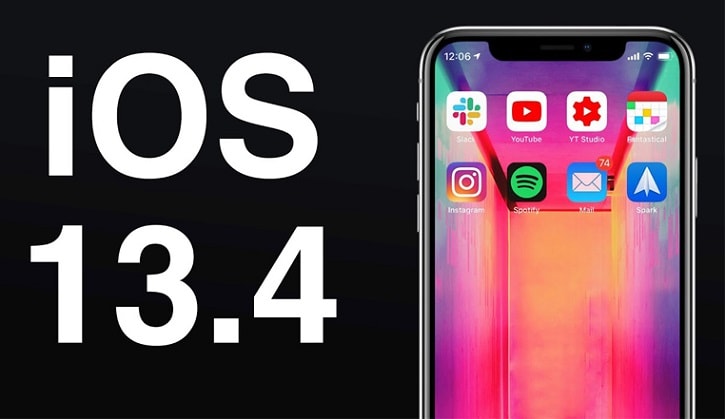 Additional features and improvements:
Added 9 new Memoji and Animoji, including a smiling Heart with Heart, Hands Clasped, and a Party Face.
Add the iCloud Drive folder sharing feature from the File app.
Add some action buttons in the messaging app
Support using multi-device app after purchase, such as for iPad, iPod, iPhone, ... when using the same Apple ID, only devices that support
Support 3rd party navigation app for CarPlay.
Fixes:
Fix VPN flicker for iPhone X and above.
Fix the camera does not turn on when the app is turned on.
Fix errors from the Album app causing memory overflow.
Fix the error of not sending images via iMessage.
Fix mail not displaying in the correct order in the app.
Fix conversations not appearing in mail.
Fix mail crash error when clicking the quick view button.
Fix the wrong display of mobile data in the status bar.
Fix Safari error does not change display when Dark Mode is turned on or color is reversed.
Fix bug when typing CAPTCHA in Safari.
Fix Reminder app not informed, and send notifications for the event is done.
Fix iCloud Drive error in apps like Pages, Nubbers, KeyNote, etc.
Resolves an issue where Apple Music does not play high quality music
Fix CarPlay error disconnected on some vehicles.
Fix Home app error opening up camera records.
Fix shortcut shortcut not appearing when entering Screenshot sharing menu.
Improve Myanmar keyboard.
And this update I translated the content from English, where is the wrong place, please correct me in the comment!
And if you are using the Vietnamese version on the iPhone, you can go Cài đặt => Cài đặt chung => Cập nhật phần mềm to read more details of Changelog of iOS 13.4 version.
Quite long and cumbersome, however, an old model like my 6S has finished updating and hasn't seen any new changes, except for the battery icon added to the Control Center. And here are some of my ideas about this update.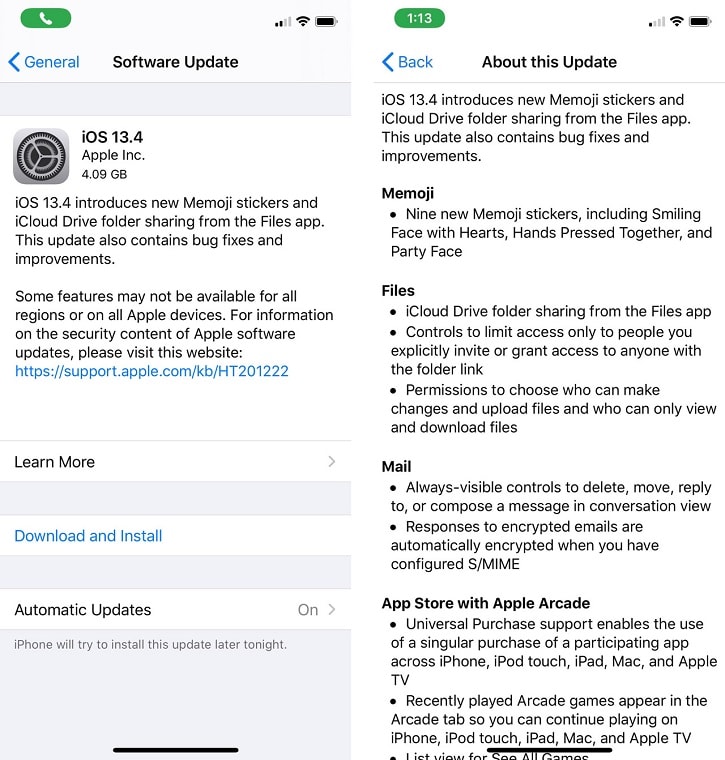 #2. Personal assessment of Nam Hoang
I used 6 beta versions of iOS 13.4, and now it's GM version, not Global version like other devices, but because these 2 versions are the same, I will still experience both bugs and features like friend.
However, the version of iOS 13.4 GM I updated to 2.9GB, while the Global version has about 1GB, so the following comments are for reference only.
I have not seen much improvement during use, but there are quite a lot of inconvenient errors that arise:
The battery dropped quite quickly with tasks such as surfing the web, surfing Facebook, listening to calls, but when playing games for a long time, it seems that the battery discharge level of the device is still acceptable.
The Facebook App on iOS 13.4 is a little bit more hot and draining than the iOS 13.3.1 version, although this error comes from the Facebook app, but I feel like that.
The notification bar is very much error: Whichever is the turn on the plane still has the operator logo, the wifi icon at the time of showing, the logos displayed overlap, ...
The keyboard effect sounds loud and small, and so does the notification sound.
Lock device with ICCID Lock last wave has phenomenon flickering waves. Haven't tried entering another ICCID yet, so I'm not sure if this error will work.
For the time being, I feel that way. So if anyone wants stability, maybe they should wait until 13.4.1. I don't think I should update this version yet, at least for my iPhone 6s models.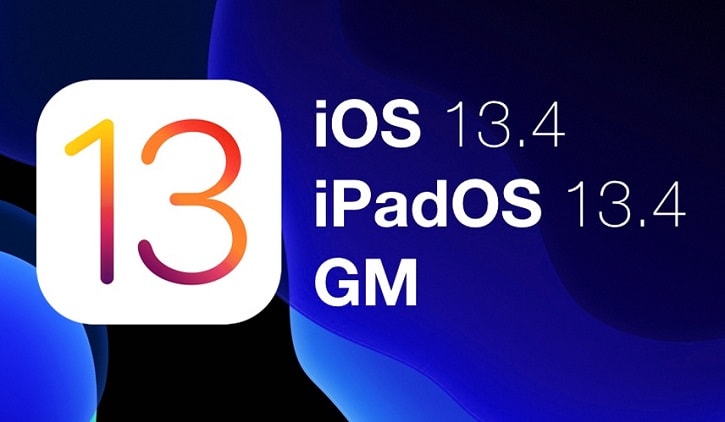 # 3. Admin personal experience (update by Admin)
I have also updated the version of iOS 13.3.1 to 13.4 on the iPhone X about a week ago. I do not use as much as other gamers, I just surf the web, use the basic App only but I have a few comments as follows:
First, if anyone asks me if I should update to iOS 13.4 on iPhone X, I would advise YES!
The previous version of iOS 13.3.1, I used it is quite good, but there is a very annoying error: When accessing heavy websites (with many ads) such as newspapers like vnexpress.net, dantri.com .... The device is extremely hot on the back. But when surfing other sites it is very normal ..
=> After updating to this iOS 13.4 version, that phenomenon is no longer available.
I didn't play a lot of games, so it was not clear if it was that hot.
And the Sound, after I updated to iOS 13.4 version, it became noticeably louder, the volume must be one and a half times larger than the previous version. Not sure how 😀
As for other features, I have not discovered anything else. Overall, I feel quite good for my device.
=> Once again I want to say, if you are using a line like iPhone 8 Plus and above and encounter any of the minor bugs that you often use, you should update them, because Apple is constantly updating and the devices are still there. is supported to update to many other versions, so it is not a shame to not update to experience it.
And for those of you who feel that the device is very stable, already satisfied, it's not necessary.
# 4. Conclude
Okay, those are two quite different experiences on the two models. Please consider yourself with your device. The article has analyzed based on very practical experience, the choice is for you!
Hope this article will be helpful to you, wish you success!
CTV: Nam Hoang - Blogchiasekienthuc.com
Edit and update by Admin Kien Nguyen
Note: Was this article helpful to you? Do not forget to rate the article, like and share it with your friends and relatives!
About My name is Nguyen Manh Cuong. I was born in a poor village in Ba Vi district, HA NOI province - windy and sunny land. Currently. https://www.nguyendiep.com/. Mr Cuong.