How to hide / show the status bar in File Explorer on Windows 10
Note: Please read the article carefully before proceeding! If in the process of using you encounter any errors, such as broken download links, slow loading blog, or not being able to access a certain page on the blog ... then please inform me through the Contact page. Thanks!
Speaking of File Explorer, I'm sure you guys are not too strange here: D, first appeared in Windows 95 and until now, it has become an indispensable component of the Windows operating system. .
As the name implies, File Explorer (Windows + E) gives you the ability to manage files, folders on your hard drive in a simple, easy and extremely effective way.
And like other Microsoft tools, it is also equipped with a status bar (Status Bar) at the bottom to display some information, such as File number, File size, File view. ...
This is a very useful feature, but if you do not like it, you can also hide the status bar in File Explorer in a very simple way!
Read more:
I. A little more
For those who do not know what the status bar in File Explorer is, this is the area highlighted in the image below.
This status bar has 2 main effects as I mentioned above:
Displays the number of files in the directory you are accessing, the number of files currently selected and its size if you choose to enter an application.
The second is to switch between the File view and the large icon mode.

Okay, now to hide File Explorer's status bar, we can use the same feature Folder Options or if you want you can use it Registry Editor.
But to ensure safety, I still recommend it Folder Options Yes, but of course I still show you both. For you to have more choices that 🙂
II. Hide or show the status bar in File Explorer on Windows 10
// In addition to Windows 10 operating system, you can also apply for Windows 7, 8, 8.1 .. more
Method # 1: Hide / show the status bar in File Explorer on Windows 10
+ Step 1: Now visit and review the article 5 ways to open File Explorer Options on your Windows 10 blog to know how to open Folder Options on Windows 10.
+ Step 2: In the window Folder Options This => you switch to tab View for me.
Next, scroll down and look in the section Advanced Settings current Show status bar (Show status bar) is now available.
Now it is too simple => you remove the checkmark in this line if you want to hide the status bar and when it needs to appear again, go to Folder Options and then check again => finally click OK to save settings.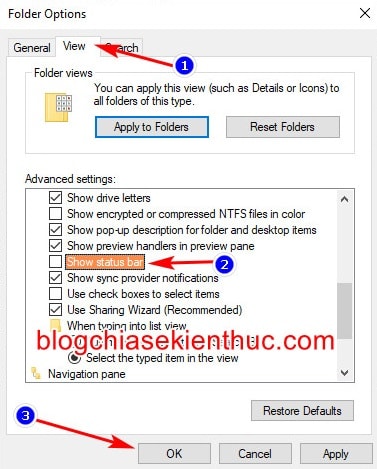 And if you use Folder Options, this change will apply, you will not need to restart the Windows operating system, save time - should use this method!

Method # 2: Use the Registry Editor to hide the Status bar
Before following this article, you need to back up the entire Registry of the system so that when encountering errors that can be restored.
This method is also very simple, but because of editing to the Windows 10 Registry, the risk of conflicts and operating system errors is higher, so I do not recommend using it.
To save time, I have made 2 corresponding .REG files hidden and show the status bar for you already. Just download and click to run, no manual editing required!
// In general, manual editing will make it easier to make mistakes because you mistakenly manipulate it, but actually running this .REG file will not be an error 😀
Perform:
+ Step 1: First, download the 2 .REG files that I have prepared with one of the 2 links below, download, then extract it to a certain place for little use.
Download Link: Mediafile link / Link Dropbox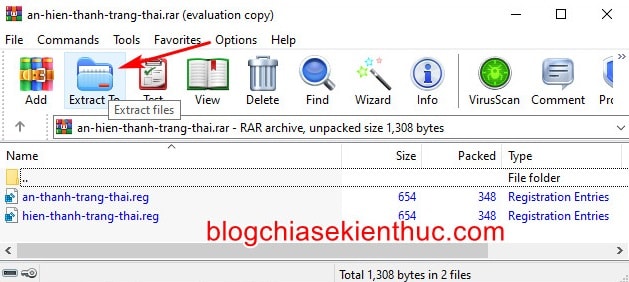 + Step 2: After decompressing, you will have 2 .REG files as shown in the picture above:
Now to hide the status bar, run the file an-thanh-trang-thai.reg
To bring up the File Explorer status bar, run the file hien-thanh-trang-thai.reg
There will be a familiar warning every time you run a .REG file on Windows, press Yes to continue.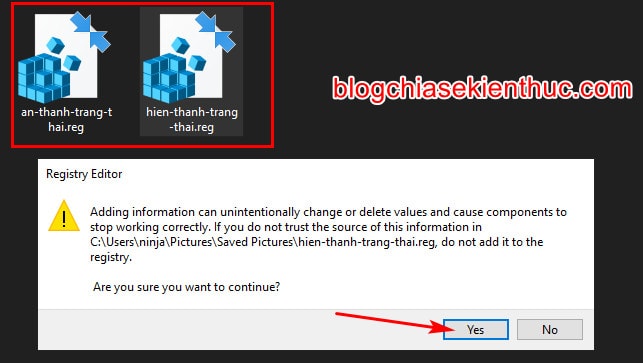 + Step 3: A notice of further success appears => click OK to close. Now restart Windows 10 and check the results!
The extra information for you is 2 files .REG When you add them, they edit the value of the key ShowStatusBar in the path
HKEY_CURRENT_USER Software Microsoft Windows CurrentVersion Explorer Advanced
If you like, you can go here and find out for yourself: D.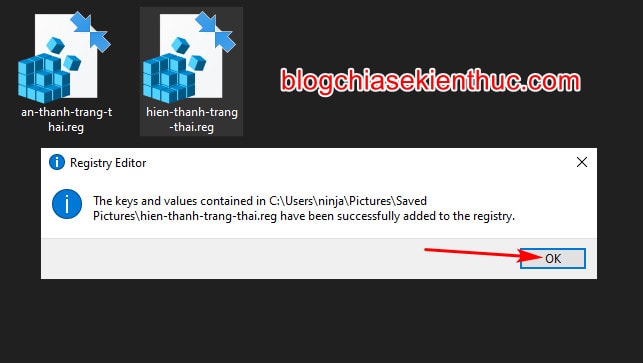 III. Epilogue
So I have just taught you how to hide the status bar in File Explorer of Windows 10 Alright then.
Choose the most suitable way for you to save time. Hopefully, it will help you guys to wish you success!
CTV: Nguyen Thanh Tung - Blogchiasekienthuc.com
Note: Was this article helpful to you? Do not forget to rate the article, like and share it with your friends and relatives!
About My name is Nguyen Manh Cuong. I was born in a poor village in Ba Vi district, HA NOI province - windy and sunny land. Currently. https://www.nguyendiep.com/. Mr Cuong.