How to feel less guilty when you haven't finished your work - Part 2 - Knowledge sharing blog
Note: Please read the article carefully before proceeding! If in the process of using you encounter any errors, such as broken download links, slow loading blog, or unable to access a certain page on the blog ... then please inform me through the Contact page. Thanks!
With the developed technology world, it is not difficult to find the shares that help us overcome this guilt!
However, the solution may work for one person, does not mean it will work for everyone. In order to find the right way for me, I still believe in experiencing and tracking results.
Here are two tactics: Behavioral tactics and Cognitive tactics Help you reduce the feeling of self-pity more.
Read part 1 of this article, guys: Reducing guilt when you haven't finished your work - Part 1
I. Behavioral tactics: Time management
When you see a lot of work to do and don't have enough time to do it, you can handle it by managing your to-do list and time. But how can we manage time effectively?
#first. First method: Eisenhower matrix
With this method, you need to evaluate the priority of your work based on urgency and importance. Applying the Eisenhower matrix helps you arrange the order of work you need to handle and select the things you directly handle.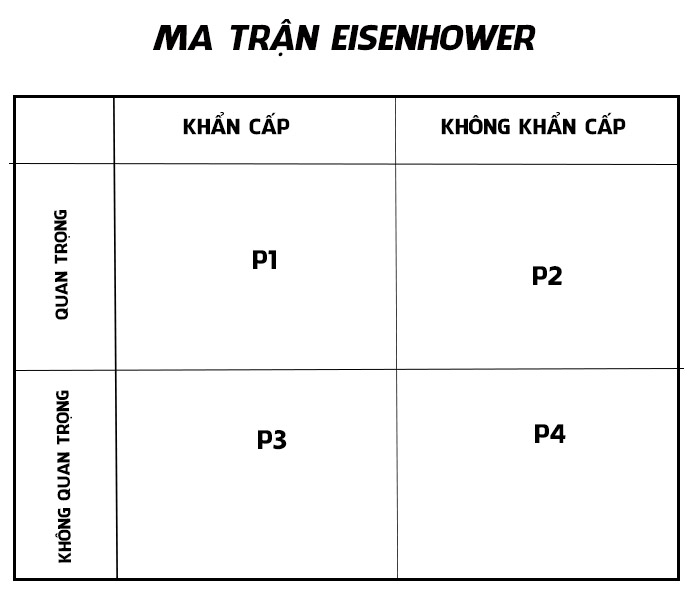 First you:
List things you need to do.
Organize tasks from "Urgent" to "Non-urgent" and from "Important" to "Not important".
Fill your work into the 4 boxes in the image above.
Focus on immediately addressing "urgent and important" groups. Be more focused on the "Non-urgent and Important" team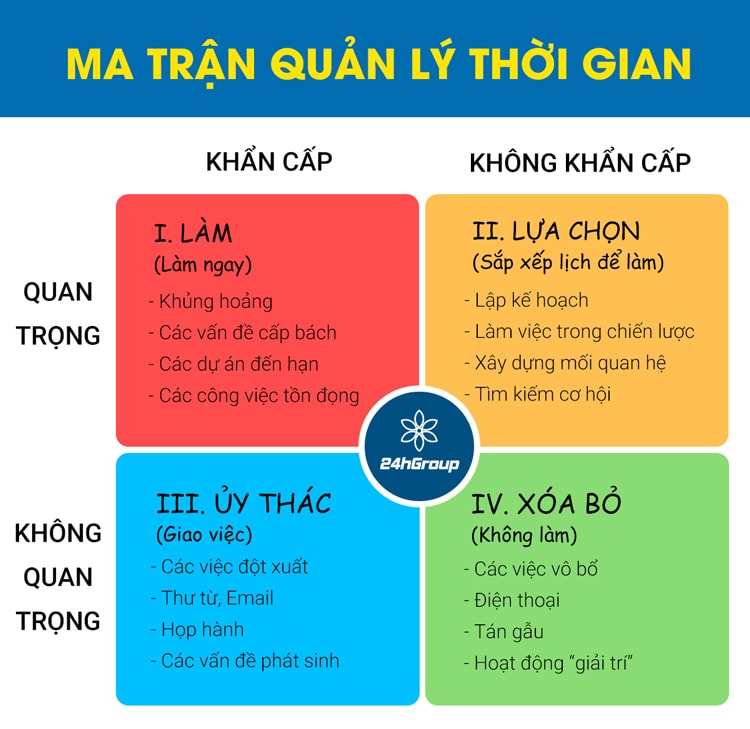 The hardest part of this exercise is identifying what is really important and urgent. What is important to you and you are willing to take the time to focus on that?
When we see the value of each task, we need to analyze the additional benefits of investment costs (time, money, effort) and the results received.
When we focus and accomplish what we consider to be important, we will feel less guilty even though we are unable to complete other unimportant things.
#2. Second method: Time division
Break down your time to focus your energy on getting a specific task done.
As I said, living in the world cannot always work hard! Clearly dividing time between breaks and working hours can help you feel less guilty.
Instead of filling your calendar with a series of tasks to complete, schedule extra time to recharge. This will help you feel less tormented because you have committed yourself to quality rest, and you know that when you get enough energy, you will continue to work more effectively.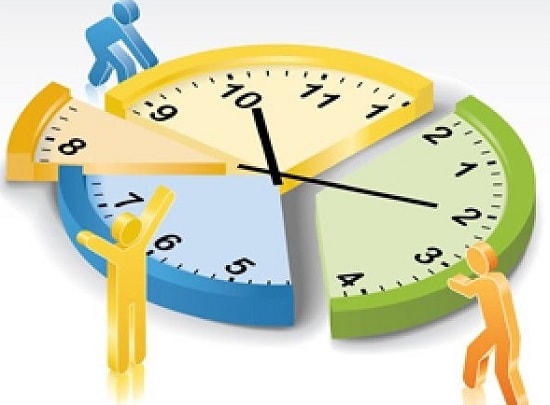 Add "relaxation" to your to-do list every day! Because this is a way to help you regain energy to return to your to-do plan
Setting a clear boundary between active and resting periods will help rebalance your personal life.
If in the course of doing a task you want to give up or postpone, motivate yourself by telling yourself to take the time to relax as expected.
II. Cognitive tactics: Awareness review
We are not passive in this life. We have the right to control the mind, interpret everything and respond to the external environment.
Although the subconscious is still out of our control, we can change the way we view stressful events to regulate our emotions.
Cognitive review is a psychological tactic. Life is not always what we want, there are times when we have to accept things that are out of control. Modifying your perspective on an event will help you change your emotions when faced with a stressful situation.
If you feel guilty for not having done what you need to do, adjust your awareness by converting the feeling of "guilt" into "self-compassion for yourself" according to the following three thoughts. Applying this mindset is a way to help us less torment and fight with ourselves to regain the spirit of work.
>> See more: Do you know the power of being merciful to yourself?
#first. Accepting rest and relaxation is an essential part of your job
Adjust your beliefs: "Sitting down while your family is busy is not good".
Motorbikes running all day sometimes stop refueling, as humans we also need to stop to recharge. "Rest" and "procrastination" are two completely different things.
If you feel you're wasting your time, ask yourself why time is being wasted? If the recovery period helps you work more efficiently, will it be a waste?
So, instead of thinking that rest time is a waste, look at it from another perspective: This is a smart way of investing time to make things more efficient.
#2. The development process is more important than the destination
Embarking on mission after mission to achieve all the goals that you set is to act like climbing the stairs to the sky. It is an endless journey!
Do you think you will be satisfied if you accomplish everything you set out to do? Let me tell you: You will never feel satisfied because you always have more things you need to do.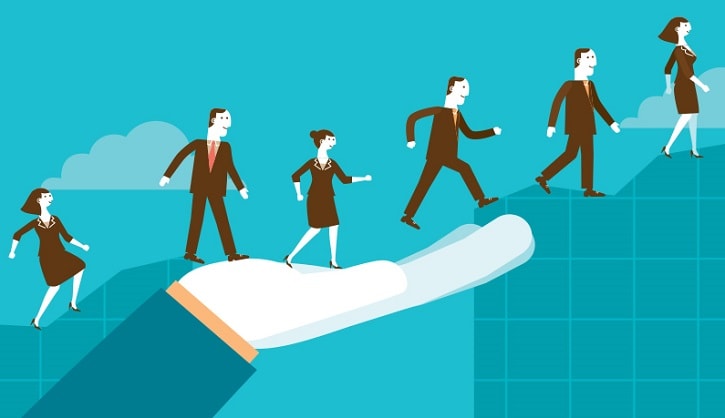 If you are tormented because you always feel like you have not finished the unfinished tasks, remember that the important thing is not the destination, it is important that you learn during the process and that you are strengthening your self. how to overcome challenges.
# 3. Accept that we cannot have it all
We want to work hard to get it all (at least there are things that our friends have shown off on social media). Author Tal Ben - Shahar talks about the concept of "Life is full".
He said: "Please accept the fact that we cannot own everything because we still have the binding things in life.". Although we sometimes pay for our ambition, we also need to accept that life is not perfect.
What you need to do is determine what is important to you and put your heart into it. Determining what you can trade and dealing wisely will depend on your goals and desires. And the cost to handle the huge amount of work that needs to be done is the wear and tear of health and creativity.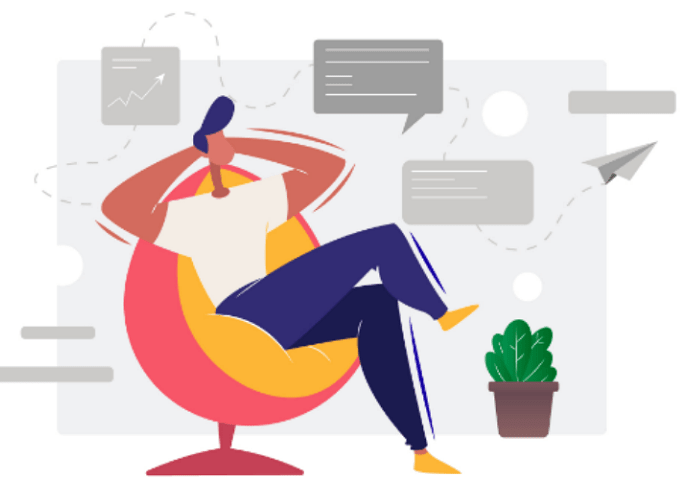 Accept that you cannot have it all because this life is not perfect and we all have constraints in life
The above are ways to make me less tormented even though I still have a list of things to do that are waiting for me to handle. My business is done and it's your time.
I do not expect you to achieve results quickly, but I hope you get better day by day. Feeling guilty for unfinished work may never go away, but at least you're learning how to work with it.
So be patient and find a solution for yourself and wish you a good balance soon!
__CTV Pham Thu Linh__Blogchiasekienthuc.com__
Note: Was this article helpful to you? Do not forget to rate the article, like and share it with your friends and relatives!
About My name is Nguyen Manh Cuong. I was born in a poor village in Ba Vi district, HA NOI province - windy and sunny land. Currently. https://www.nguyendiep.com/. Mr Cuong.