Get royalty free Trend Micro Maximum Security - Knowledge Sharing Blog
Note: Please read the article carefully before proceeding! If in the process of using you encounter any errors, such as broken download links, slow loading blog, or unable to access a certain page on the blog ... then please inform me through the Contact page. Thanks!
At a time when the Internet has been extremely developed as it is today, when Internet users, home users use the Internet ... The Internet has changed people's lives in a very positive way, we cannot deny that. is this correct?
However, besides the positive things, there are also many risks and negatives around the Internet. Specifically, the number of malware, malware, virus extortion ... increasingly diverse in number and type.
And if not careful, you can completely fall victim to them. Especially in the context of the complicated Corona pandemic today, while people are confused and depend heavily on the Internet, the bad guys have taken advantage of this situation to increase their attacks.
Fortunately, both computers and phones have a lot of quality Antivirus and Internet Security software, which helps protect users better in the Internet environment, but most of them are paid. That is, you have to pay some money to the publisher to be able to use.
As you know, using copyright in Vietnam is still quite a luxury. Of course we are more aware of using copyright than in previous years, I cannot deny a very encouraging signal 😀
Read more:
Yes, in response to the Corona pandemic campaign, many software vendors have freely used their paid software.
One of them is Trend Micro Maximum Security, a fairly reputable computer security software, and today I will guide you to get 6 months of free license of this software!
#first. Introduction of Trend Micro Maximum Security software
Talking a bit about Maximum Security, this is a software of Trend Micro company - one of the companies working in the field of computer security with over 20 years of experience.
So you can absolutely use their software offline! And for their employees to work at home more safely, Trend Micro has a free 6 months license of Maximum Security for Windows and Trend Micro Antivirus for macOS, of course we can also get it for free. this copyright.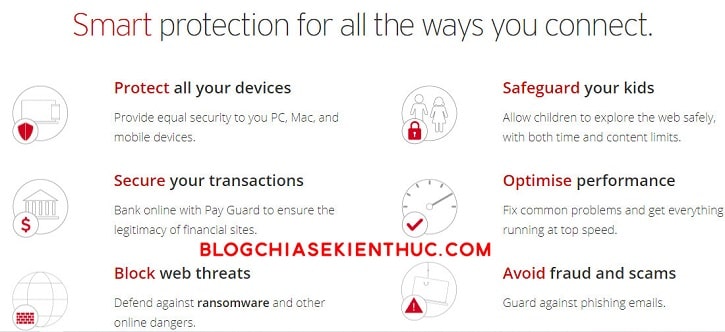 Trend Micro says - "The COVID-19 epidemic is booming in many countries, and many people are forced to work from home."
Therefore, many people will have to use their personal computers at work, but to make your computer as well as your work more secure, you should use a licensed anti-virus software to Computer security is better.
=> Free Giveaway program 6 months using Trend Micro Maximum Security appears. That's it guys 😛
#2. How to get Trend Micro Maximum Security's copyright free
In this article I will perform on Windows 10, for macOS you do the same.
Although this software supports all 4 platforms: Windows, Android, iOS and macOS, but this Giveaway is only available for MacOS and Windows.
With macOS, it requires High Sierra version 10.13 or higher, and for Windows is from Windows 7 and up (32-bit or 64-bit are).
Perform:
+ Step 1: To get copyright is very simple, first open your web browser => and visit the download page of Maximum Security here !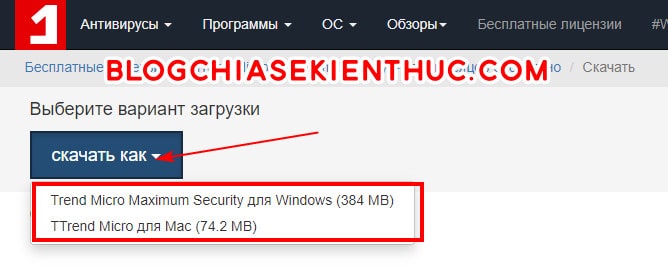 => Then you click the button скачать как => and select 1 of the 2 lines in the menu that appears to download the appropriate version.
Note: The above line is the version for Windows operating system, the bottom line is for macOS, you probably know through looking.
The only way to install apps for each operating system is different - of course, and the steps for getting royalty free are no different.
+ Step 2: Download finished you run the file *.exe There and wait a moment for it to decompress the files needed for the installation process, not too long.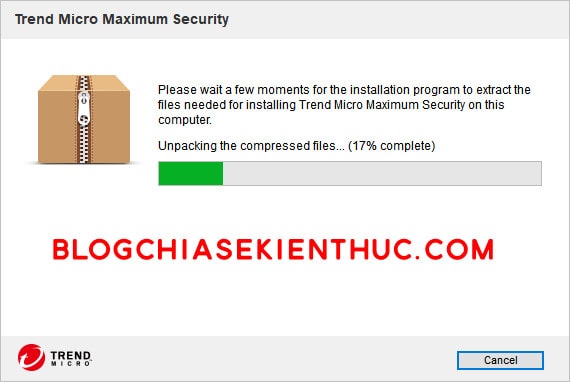 After the decompression is complete, the Trend Micro Maximum Security installation window will appear as shown below.
+ Step 3: This will be a step for us to get a free license, unlike the Giveaway programs of other software companies, they will not send the key directly to you via registration email.
Instead, Trend Micro Maximum Security has built-in copyright into the installer already => so you just need to tick Trial Version at section Choose your Version => and press Next is immediately available for 6 months free license.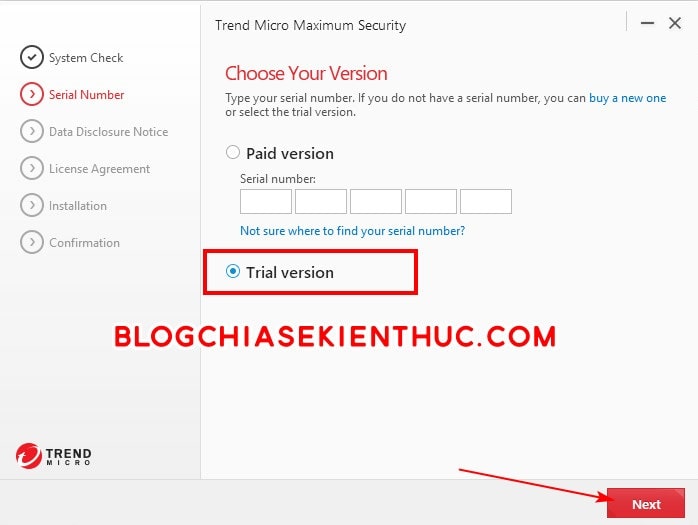 + Step 4: In the following step continue to press Next => and in step Chấp nhận điều khoản sử dụng this.
+ Step 5: Please put a checkmark in the box Also install Password Manager for free to not install password management software Password Manager If not, use => then press Agree and install to start the installation.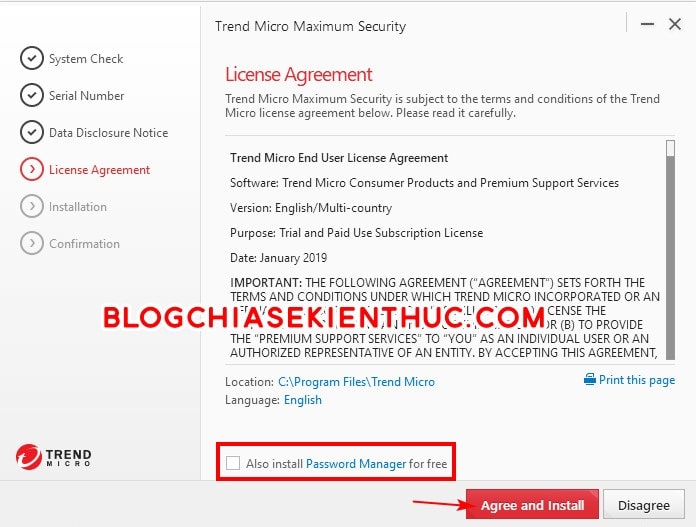 + Step 6: Now you just need to wait for this application to be installed on your computer. Installation is complete, you will need to enter your Email to activate the copyright of Maximum Security.
You can uncheck the line Receive the lastest news and offers from Trend Micro to not receive promotional mail before clicking Finish dentist.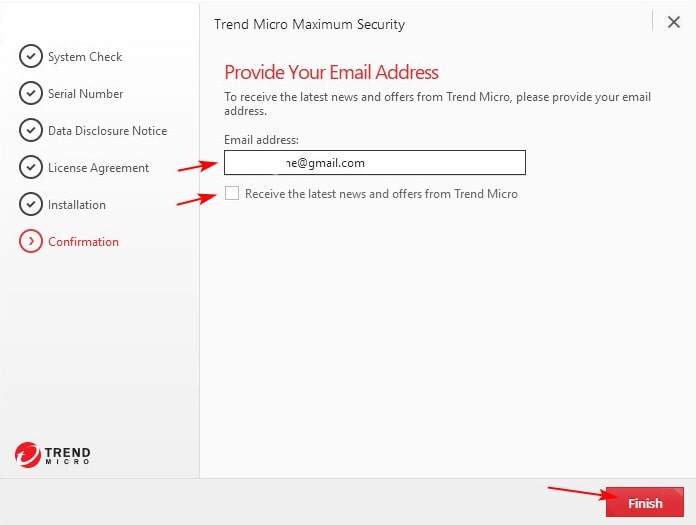 And with just a few simple steps, we have a 6-month free license of one of the best security software available today.
This software has very good computer protection and a lot of special functions, of course I do not mention all in this article because this is not an introduction to the software. Just install it and it will protect your computer automatically 😀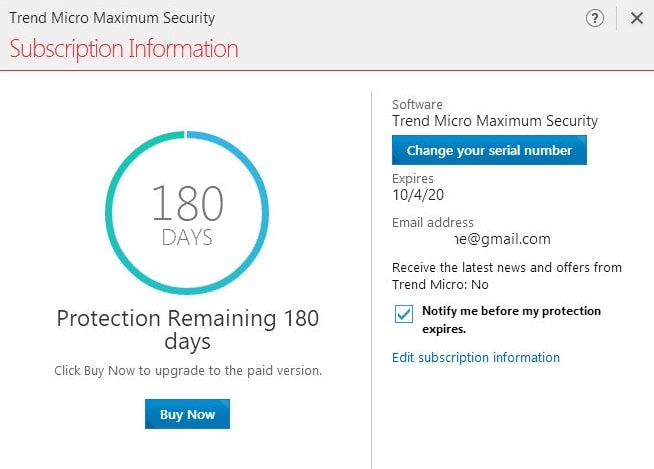 # 3. Epilogue
So I have just guided you how to get 6 months free license of Trend Micro Maximum Security software Alright then.
In this outbreak, most of us will have to work using computers at home, with individual laptops. So please share this article so many people know about this free giveaway program.
Hopefully the above article will be able to help you. Good luck !
CTV: Nguyen Thanh Tung - Blogchiasekienthuc.com
Note: Was this article helpful to you? Do not forget to rate the article, like and share it with your friends and relatives!