[Full hướng dẫn] How to use Zoom to teach and learn online - Blog for knowledge sharing
Note: Please read the article carefully before proceeding! If in the process of using you encounter any errors, such as broken download links, slow loading blog, or unable to access a certain page on the blog ... then please inform me through the Contact page. Thanks!
In addition to advising people to stay at home, restricting going out when it is not absolutely necessary, the government also requests the suspension of all business, tourism, entertainment, education, etc. to prevent spread of this dangerous COVID-19 pandemic.
And in order for students' learning process to be uninterrupted due to long absences, the online teaching and learning method is an unreasonable choice.
Especially when we are living in an era of information technology boom, an era where the Internet is growing extremely strongly today.
Yes, amidst a "forest" of online video calling applications, ZVC, Inc.'s Zoom is the most mentioned name. So, what is Zoom and why do users choose Zoom over another?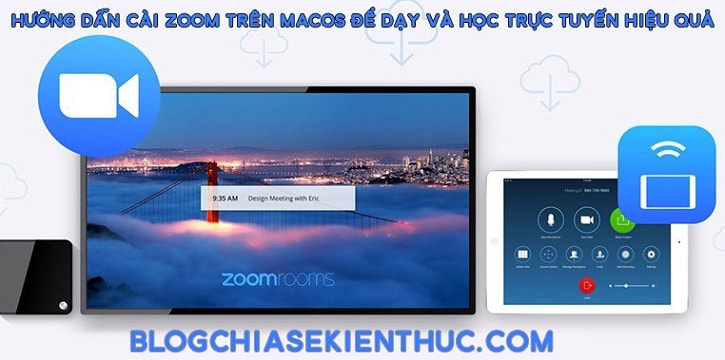 Why would users choose Zoom over familiar apps like Apple's FaceTime, or Facebook's Messenger app? Or is it not Zalo of VNG?
How to set up and use Zoom as well? Is it complicated? OK, got it All of the above questions will be answered in detail in this article!
Read more:
I. Introduction of the Zoom.Us application
Zoom is a very popular application in the field of online meetings, seminars, training and teaching with full features such as sharing computer screen content, chatting online, online video calling. , share documents, whiteboards for presentations, PowerPoint presentations, schedule meetings / study, ...
This application was developed by Zoom Video Communications, Inc. and is completely free for all popular operating system platforms such as Android, iOS and Windows, macOS and most Distros of Linux, in addition It also has extensions for Office 365, Safari, Chrome, Firefox, Gmail and Outlook ...
Of course, there will still be paid versions for those who have higher needs, applications that want to grow will also need a paid package to maintain and develop to serve users.
II. Why Zoom, not another application?
According to an analysis by App Annie, Zoom is in the top ranking of the most popular free apps on the Appstore in many countries.
Investors also see the potential of the Zoom application, when the stock price has risen 28% since February 19, 2020, in contrast to the S&P 500.
In the context that people have to stay at home to fight epidemics nowadays, users not only use Zoom to learn and teach online, but many also organize weddings, anniversaries ... through Zoom.
So the question is why, among hundreds, thousands of video calling applications for free but the Zoom application has become the default choice for so many people right now?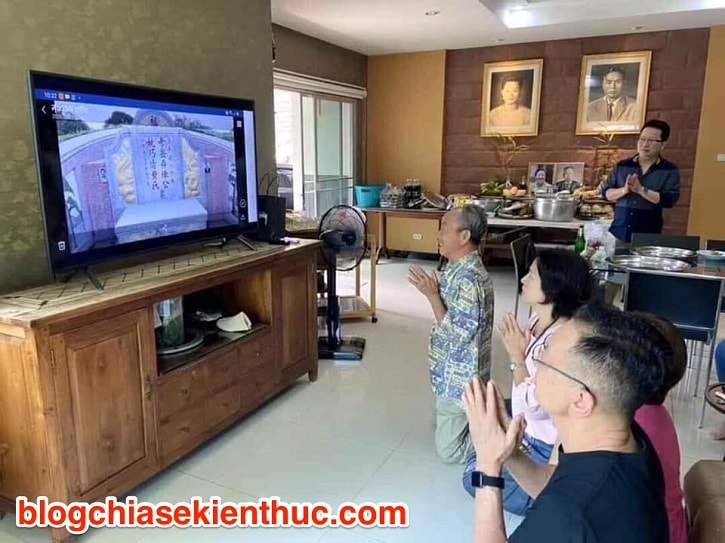 The first is that it is completely free, certainly, free, everyone likes to use, right? But it is still limited, with the free version you can only:
Group video calls within 40 minutes.
The number of participants is less than 100 people.
=> You can click here to compare the free version with the paid package of Zoom: https://zoom.us/pricing
Last March 13, 2020, Zoom has officially removed the limit of 40 minutes for free accounts at tens of thousands of schools in the US and many other countries in the world, unfortunately we do not have Vietnam.
In addition, the fact that it supports all operating systems of phones and computers as I mentioned at the beginning of this article is a great advantage of this application, no matter what device you use. moreover, it can also be used easily.
There, it comes to use. Zoom is extremely easy to use, has extremely high stability, low latency, promising not to interrupt your conversation…. The most practical evidence is that it is the first choice of many large companies in the world.
Even Microsoft intends to include this tool in its famous teamwork software MS Teams. That alone is enough to show the level of prestige and utility that it brings.
III. How to install and use Zoom on computers to teach and learn online
Introducing briefly enough, now we will go into details of the steps to install Zoom on the computer!
#first. Download the latest Zoom application
Because Zoom is a completely free application, you can visit the home page of this application here ! => And click the button Download at section Zoom Client for Meetings.
The website will identify the operating system in use and download the appropriate installation file yourself, so you do not have to worry about the wrong download.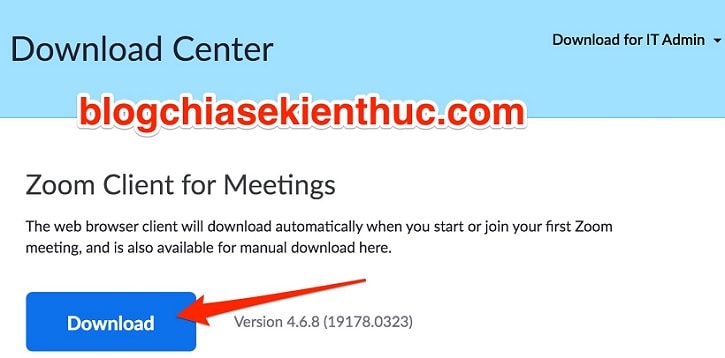 I will update the download link directly from the homepage for popular devices, if there is no link for your device, please go to the homepage link above to get it:
=> The included Zoom utility, you go to the Download page of Zoom to download offline.
#2. Instructions for installing the Zoom application
On Windows: With the Zoom software on a Windows computer, the installation is very easy, which can be said to do not need to install anything.
Because after downloading, you just need to run the installation file *.EXE Just downloaded is the application that automatically installs on our computer.
On MacOS: Particularly for macOS, when pop-up This package will run a … be installed appears in the window Install Zoom as shown below.
=> You just click Continue The installation process is now complete.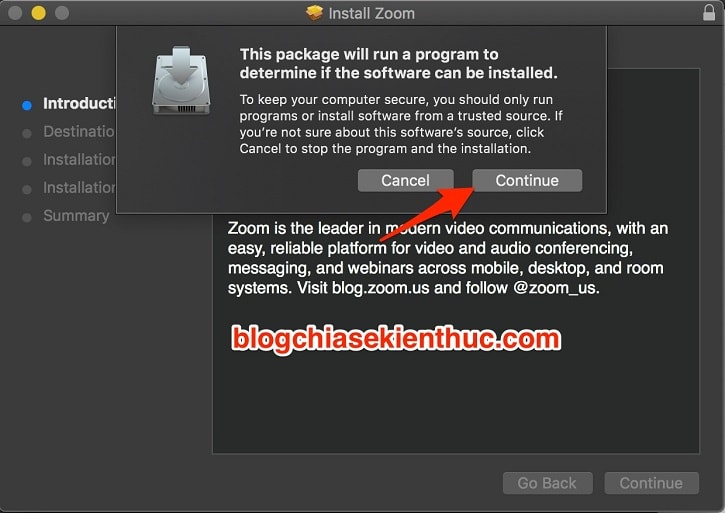 On Linux: As for the Linux operating system, I see quite a few of you, and on the site Install Zoom on Linux here => There are also very detailed instructions for all Linux Distros it supports already.
Please go there to refer to the instructions, I do not write here anymore.
# 3. Instructions for use for students
After installing Zoom, the application will automatically start up => and you will see a window like the image below, please click the button Join a Meeting to start the classroom.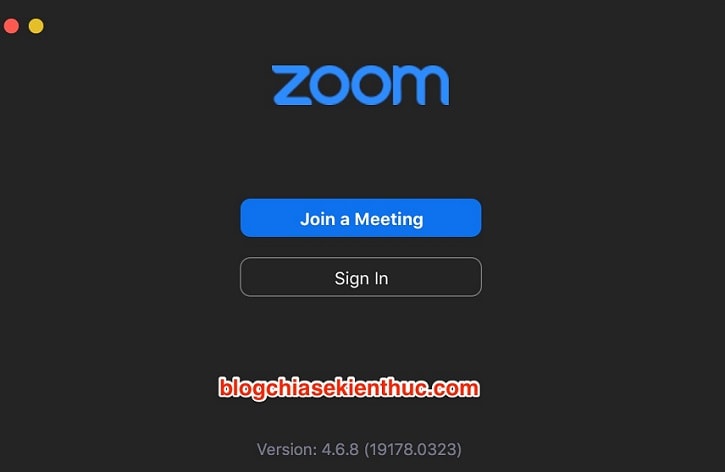 Then you enter the necessary information into:
Meeting ID or Personal Link Name: Please enter ID phòng học that the teacher gave you in this box.
Your Name: Enter the desired display name in the box (if it is a class, you should enter your full name here).
Check the box Remember my username for future meetings so I don't have to enter it next time.
Alternatively, you can check the box Turn Off My Video to turn off your webcam, Don't connect to audio To view the picture without sound and finally press Join is able to enter the classroom already.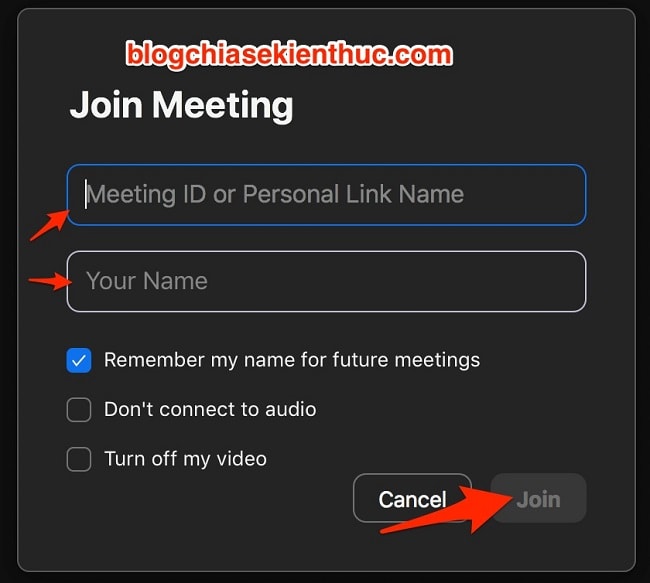 # 4. Instruction for registering and using Zoom for teachers
Note : Account registration is only for the room creator, if it is a classroom, usually the teacher must do this to be easy to manage, students participating in school do NOT need to do this step dentist.
+ Step 1: First, you also proceed to normal zoom settings as instructed above => then visit the page Sign Up of Zoom at the address https://zoom.us/signup to create yourself an absolutely free account.
+ Step 2: Please enter Email into the box Your work email address => and then press Sign Up To register an account.
Also you can use your Facebook and Google accounts to make quick registration, but I think you should not, you just create a new account for me.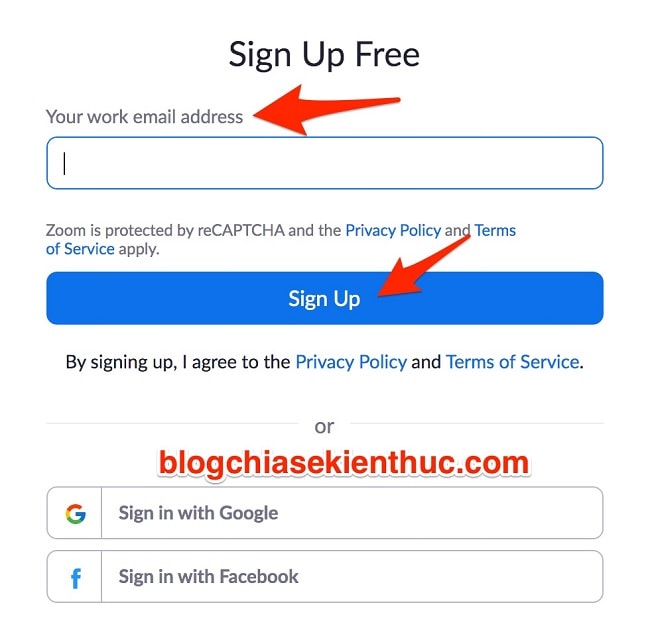 + Step 3: If you choose to register to use email immediately after clicking Sign Up Zoom will send an email to your inbox, if you do not see then try checking in the SPAM mail of Email.
+ Step 4: Now log in to your Email => Then you open the message subject Please active your Zoom Account => and click the button Active blue in the middle to confirm your email.
If you can't use that button, please copy and paste the link into your web browser to confirm it!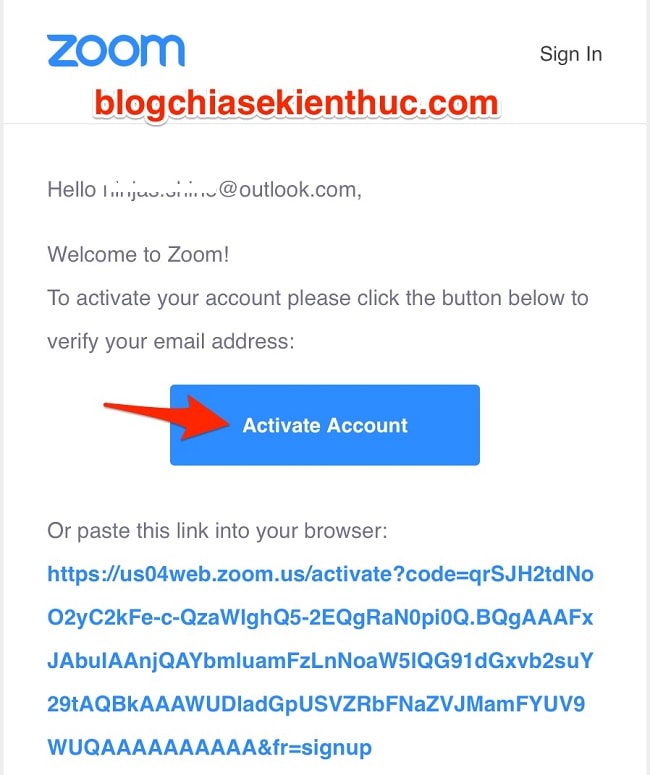 + Step 5: Next, enter your information such as First Name, Last Name and especially the password for your account.
Particularly for passwords, Zoom requires a password of at least 8 characters including, at least has 1 digit, 1 special character, combined 1 uppercase letter, 1 lowercase letter. You should not set easy-to-guess passwords such as date of birth, name, or sequences 12345678, abcdefgh, ...
=> Then press Continue to complete the account registration process on Zoom.Us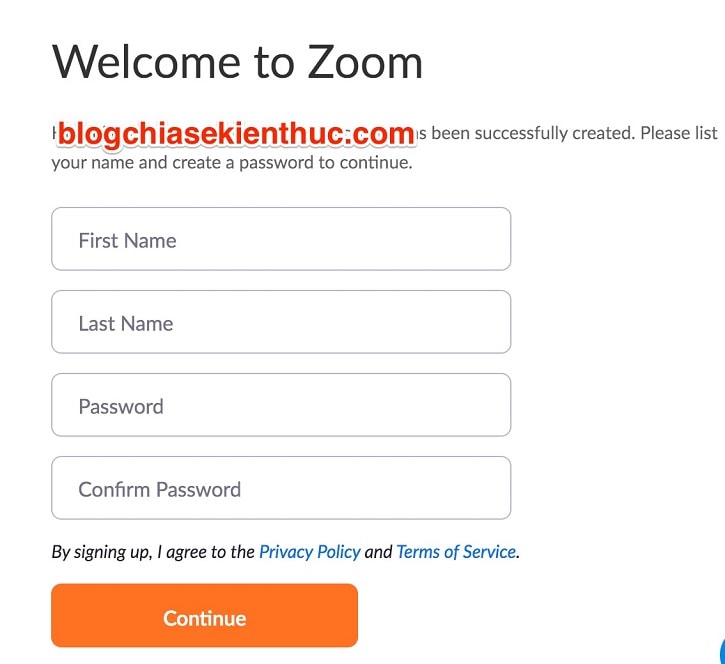 + Step 6: Then reopen the Zoom software => click the button Sign In to log in using your registered account.
If you use a social network account like Facebook, Google, then choose to log in to the corresponding account, here I still choose to register a new account.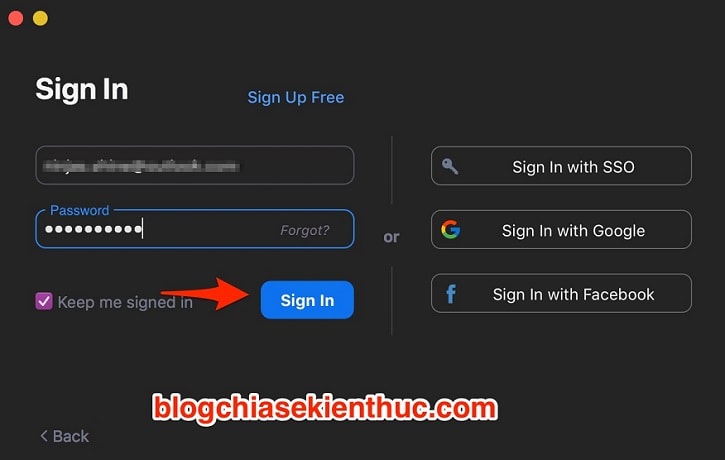 And this is the main interface of the ZOOM software after we log in, nothing too special except the 4 basic items, which are:
Create a new meeting (New Meeting).
Join a meeting (Join).
Schedule (Schedule).
Share photos (Share Screen).
You can also chat with other people in the section Chat, add them to the contact list using the item Contact on the horizontal Menu bar.
The above sections, if you want to use it, you can find out for yourself, I just instructed how to create a new classroom to serve for online teaching.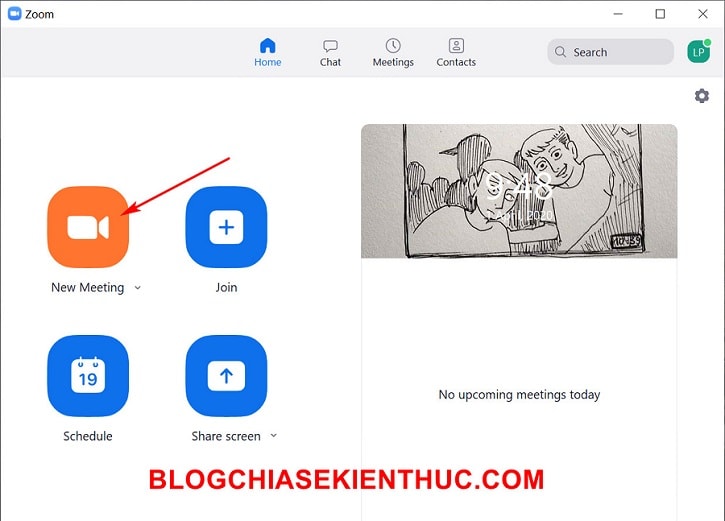 + Step 7: But before creating a new room, you should make the booking step Personal Meeting ID (PMI) as default. Explained quickly, it is the use ID cố định. If you want to know more, read the readings section below.
//* read more *//
Before understanding what PMI is, we need to understand how Meeting ID works on Zoom first. Every time you click the button New Meeting To create a new meeting or video call, Zoom will automatically generate one ID 10 different digits.
Anyone who wants to join a room created by you must have it ID This is provided by you, so they can enter (follow the instructions above #3 to enter the room).
The use ID This coincidence is quite complicated and difficult to manage with meetings, classes with many participants, then sending ID to each person will be very time consuming.
Personal Meeting ID (PMI) is also an ID with 10 digits but it is a form Fixed ID per account and can only be changed when you upgrade your account to the PRO version.
And when you choose to use PMI as Meeting ID it will always be this fixed ID, not the automatically generated random ID.
Using a fixed ID makes it easy to manage as well as people easily enter the room, no need to give ID many times. You imagine it is similar to your permanent classroom at school, every day you go to the same room to go to class.
// * out of reading more * //
Perform: To select PMI as the default ID, do the following: Click the down arrow to the right of the word New Meeting => and check the box Use My Personal Meeting ID (PMI) is to be.
If you want to set a password for the conversation to limit the participants, please click vào ID của bạn => and then select PMI Settings as shown above to open Zoom's room settings.
Then you check the box Require Meeting Password at section Password => Then enter the password you want to create into the box that appears next to => and finally click the button Save to save.
Whenever you create a room, there will be this password, if you want to cancel the password, then leave the checkmark here is okay.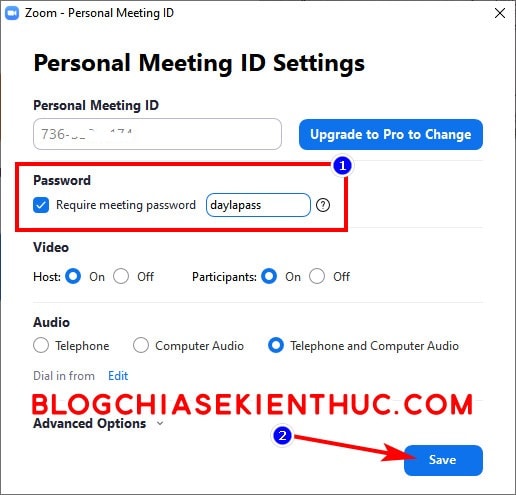 + Step 8: Once you have chosen PMI as the default and set the password, you can now click on the button New Meeting to create a conversation, a new classroom.
To share your room information you can read ID and Password has placed. Or click on the word icon i in the left corner of the window Zoom => and pop-up capture has just appeared => send to others that they can access the room already.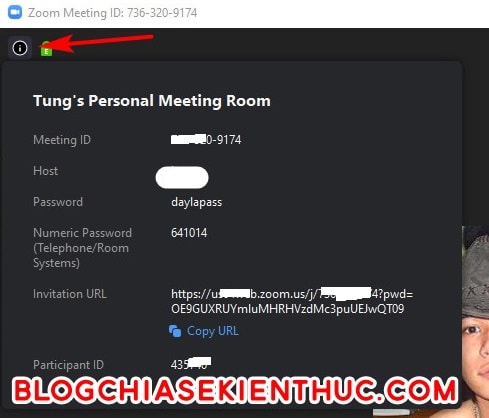 IV. Epilogue
So I just gave very detailed instructions for you how to use Zoom to teach and learn online effective this season already.
If you find this article good, do not forget to share it with everyone to know so that online learning is easier for you. Hope this article will be helpful for you. Wish you good study and stay safe !!
CTV: Nguyen Thanh Tung - Blogchiasekienthuc.com
Note: Was this article helpful to you? Do not forget to rate the article, like and share it with your friends and relatives!
About My name is Nguyen Manh Cuong. I was born in a poor village in Ba Vi district, HA NOI province - windy and sunny land. Currently. https://www.nguyendiep.com/. Mr Cuong.