Fake IP safely surf the web with OKayFreedom VPN software - Knowledge-sharing blog
Note: Please read the article carefully before proceeding! If in the process of using you encounter any errors, such as broken download links, slow loading blog, or unable to access a certain page on the blog ... then please inform me through the Contact page. Thanks!
In the previous article, I gave you very detailed instructions on how to Fake IP with Proxy and the best free software today, and I believe that after reading that article, you understand the meaning and The importance of fake IP address when using the Internet already.
Yes ! That's why in this article I will not explain more about the effects of Fake IP anymore, but instead I will give detailed instructions on how to use the software OKayFreedom, a professional, simple and extremely effective Fake IP address software.
Read more:

I. What can OKayFreedom do?
First I will talk about the advantages of this software first, its effect is Fake IP, it is very clear then, but there is one advantage compared to other software of the same function is the single-use method. Simple, fast and really effective, it almost does not slow down your internet compared to when not yet implemented Fake. In addition it also supports you ...
Surfing safely, your IP address will be hidden and replaced by a range of virtual IP addresses of a certain country (of your choice). In addition, all connections to the internet will be encrypted with Blowfish technology with high security 128-bit. This helps you avoid the gaze of hackers and of course you will avoid a lot of dangers already.
Support access to blocked websites, blocked videos or the most common and very important for many people is to use this software to access facebook when blocked very easily.
OKayFreedom not only encrypts internet connections, fake IP addresses in browsers, it also works well on download and torrent software.
OKayFreedom supports most popular web browsers such as Google Chrome, FireFox, IE, Coc Coc ..
This software supports Fake IP to countries like USA (US), UK (UK), Switzerland, Russia, Ukraine ...
II. Download the latest OKayFreedom
Homepage: www.okayfreedom.com/en/
OKayFreedom free version: Download the device or This link
OKayFreedom PREMIUM FLAT version: Click here to buy
Note: The free version of course will be limited and you only have 2.5GB of free bandwidth per month and will have ads in the software interface when used. As for PREMIUM FLAT, you will have full use of all features, unlimited bandwidth and no ads.

If you want to use this PREMIUM FLAT, you can search for the full version on the Internet!
III. Installation instructions and Fake IP address with OKayFreedom VPN software
+ Step 1: After downloading the software, you proceed to install on the computer.
The installation process is very easy so I do not guide anymore. Double click and Next => Next is done 😀 After installation is complete, an OKayFreedom icon will appear on the Desktop screen, double-click on it to start using.
+ Step 2: Okey! Now you want to use OKayFreedom to Fake IP, then you go nhấn chuột phải vào icon OKayFreedom's icon is under the Taskbar => select Countries => select the country you want to Fake, for example, I choose America.
Note: The message "You are flat rate user! Thank You "means you have successfully activated the copyright.
+ Step 3: At this point, a dialog box may appear as shown below, just press Install to install.
+ Step 4: OK, so you have completed the configuration of the fake IP address already, now want to know whether it has been successful or not, you can go to the page www.whatismyip.com to test 😀 test
When you do not want to use anymore, which means you do not want to remain anonymous, you can right-click on the icon of OKayFreedom icon and select OFF is done.
IV. (UPDATE April 2020)

- Get a one-year free license of OkeyFreedom (unlimited traffic)
Quickly get 1 year to use this software for free. There is not much time for GIVEAWAY so please take advantage of this opportunity!
+ Step 1: You access the free promotion link here !
=> Then enter your email address, real email address, because they will send the key to this email address => then click the button Send
Note: The image illustrates me from the previous Giveaway, but the steps are not different.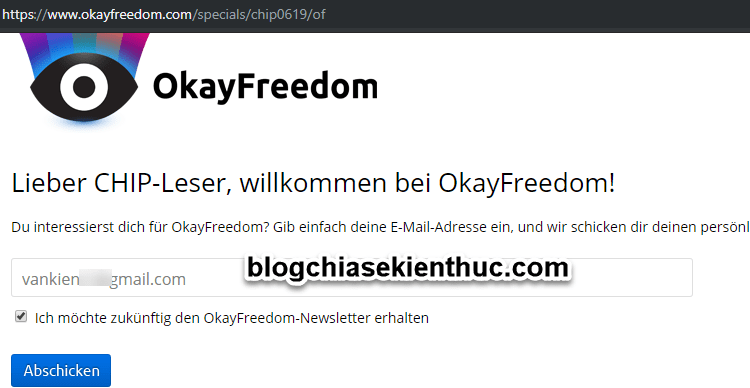 + Step 2: Notice of success, you check email, in the Spam folder again.

+ Step 3: In my case, the message is in the Spam folder. Click on the link inside the message to confirm.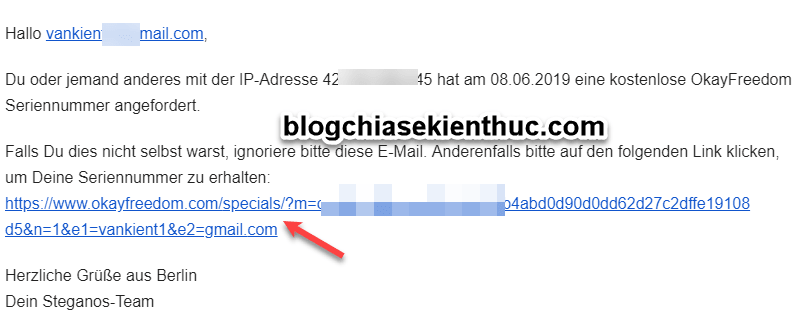 + Step 4: Click verify again.
And there is a notice that you revisit the email to check.

+ Step 5: And here is the result, there is a Serial with the download link!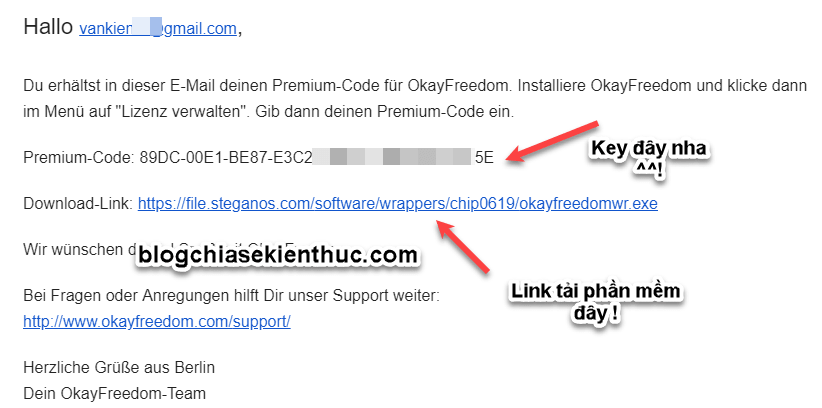 In addition, during times of broken fiber optic cable like this, you can use Warp + software as the following tutorial to speed up the Internet.
V. Conclusion
That's it, one Fake IP software Great for keeping you safe when surfing the web and especially and not slowing down the internet speed like other software and functions.
I have used it for a while and feel it is quite good and worth using, if you like, do not hesitate to like and share with friends anymore.
Hope the article will be helpful to you, wish you success!
Kien Nguyen - Blogchiasekienthuc.com
Note: Was this article helpful to you? Do not forget to rate the article, like and share it with your friends and relatives!