Detailed instructions on how to permanently delete Zoom account - Knowledge sharing blog
Note: Please read the article carefully before proceeding! If in the process of using you encounter any errors, such as broken download links, slow loading blog, or not being able to access a certain page on the blog ... then please inform me through the Contact page. Thanks!
Online learning and meetings are no longer a strange concept in this 4.0 era, especially in recent months, people have to take a break from Corona translation, the online meeting concept has been printed. much darker, now that everyone knows about this concept.
Well, when people are implementing a policy of social isolation and everyone is at home, online learning, online meetings and online work are a more unreasonable option.
Among thousands of online learning applications / software, Zoom is the most prominent and used name in not only Vietnam but also many other countries in the world.
But if you follow the news or read the newspaper, you may realize that recently, Zoom has been boycotted by many countries. First the US, then many countries and many other companies around the world.
The reason is that Zoom lacks security, intervenes too deeply in user privacy, unencrypted video terminal, sends information to the server in China ...
Therefore, many large companies and businesses have stopped using this software to switch to more secure applications such as Skype, MS Teams, Google Meets ...
Immediately after these incidents, Zoom's CEO apologized and promised to find a way to fix the above holes. But the fact that the security of Zoom at this moment is unknown.
For students and teachers, I still find it a lot of use right now, because fair to say, in terms of features as well as friendliness, ease of use, Zoom is the best.
Okay, if in case you are concerned about your data, or your school changes its online learning method, this article will help you permanently delete your Zoom account.
Read more:
I. Many people delete Zoom accounts for security reasons
As I mentioned above, Zoom Meetings or Zoom is one of the most commonly used communication applications during the COVID-19, with an easy-to-use interface, powerful video technology and support for many features. Useful like screen sharing, call recording…. etc. and clouds.
However, after a series of scandals related to security on the Zoom platform, many users turned their backs.
Specifically, CEO Eric Yuan (Your Tung) said Zoom had "mistakenly routed" the call and their information was sent to Zoom's server in Beijing, China.
It is not clear whether it is wrong or not, but the company has also promised to fix this problem to regain the trust of users.
Previously, there was a Reddit post about this application sending user data to Facebook even when you are not using Facebook, but Zoom quickly released a patch to fix this problem so it was overcome.
However, many people still choose to leave Zoom and switch to using the online calling platforms of the more reliable giants like Google Meets, Skype Meet and Microsoft Teams, ... and of course they are free.
All you need to do before you break up with this service is to log out of all devices and delete your account completely.
Finally, remove the application from those devices, but this step is very basic and simple, so I do not guide you in detail.
// On your phone, remove Zoom as normal applications, and on your computer, you just need to delete the downloaded file.
Okay, now I will guide you in detail how to log out of Zoom account and delete Zoom account.
#first. Log out the Zoom account from all devices
The purpose of this is for Zoom to stop sending your personal information to Zoom's servers.
Usually, students do not need to register for an account. So if you don't have an account, there's no need to do anything.
Perform:
+ Step 1: You access the login page of Zoom.us here (https://zoom.us/signin) => proceed to the account to delete.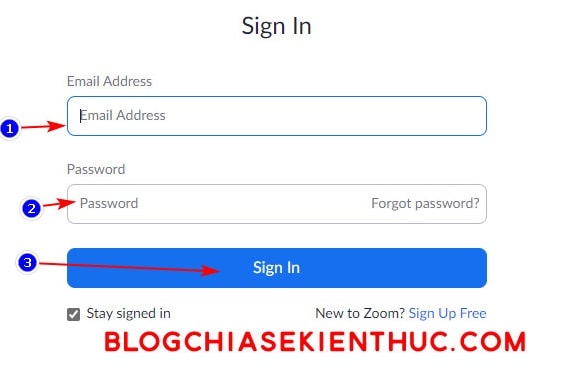 + Step 2: Login finished, at this account management page you click on the line Profile in section PERSONAL in the navigation bar along the left of the screen.
It will open for you to manage information and edit your personal account information, and usually this section will open by default, but if you do not open, please follow the steps above.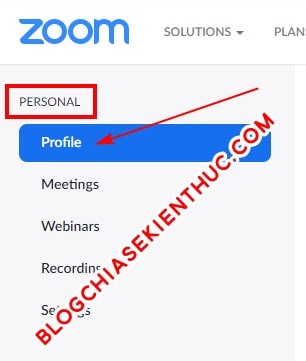 + Step 3: Scroll to the bottom of this Profile page => and find the line Signed-In Devices (Devices logged in), you will see the link immediately Sign Me Out From All Devices (Log out from all devices).
=> Click on it to log out of Zoom account from all devices that you have ever logged in before. Unfortunately, it does not allow users to see which devices are logged in.

Window Sign Me Out From All Devices appear => you click the button OK to confirm the logout of the Zoom account out of every device logged in, that's it.
#2. How to permanently delete accounts on Zoom
Actually this step is also not necessary and does not require you to perform, but if you like, you can delete it as well.
Also at this management page, but instead of in section Profile Now visit Account Managment => then select continue Account Profile in the section ADMIN.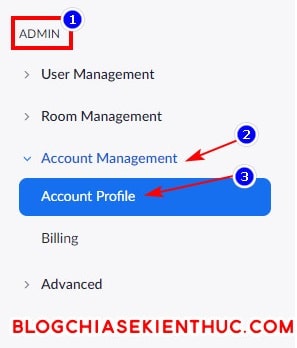 At the section Account Profile This you will be able to see your account type (FREE or PRO), who is the owner (owner) and the maximum number of participants in the default call is 100.
Directly below that will be the words Terminate my account, click on it to delete your account.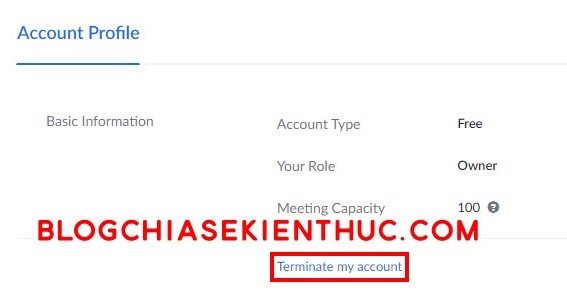 As well as logging out, there will be a name confirmation window Confirmation appears asking you to confirm the permanent deletion of this account.
=> Click OK to agree, that's it, and you will also be logged out because the account no longer exists.

Now you can rest assured and go to blogchiasekienthuc.com or online to find yourself other effective online meeting and learning solutions.
Suggestions: You can try reliable services such as CISCO's Webex, Skype's MeetNow, Microsoft's Teams, Google's Hangout Meets, etc.
In general, there are many reputable meeting applications, and they will give you more peace of mind about your privacy and personal data. If not, you should consider buying a paid service to work!
II. Epilogue
So I just finished with you how to delete the Zoom account to be able to "bid farewell" to her forever and switch to another software to use already.
If you find this article good, don't forget to share it widely so that more people know about this trick. Wish you find a service like that, study and work effectively this season!
CTV: Nguyen Thanh Tung - Blogchiasekienthuc.com
Note: Was this article helpful to you? Do not forget to rate the article, like and share it with your friends and relatives!