8 best free logo maker for designing logos online
Marketing Web development
access_time
April 22, 2020
hourglass_empty
6 least Read
Logo is an important element of every brand. It helps businesses stand out and be remembered. If you want Branding for businesses To succeed, you need to invest time to design your own logo. There are many logo maker online on the market and completely free so logo design is actually not expensive. Here are 8 of the best free logo maker on the market.
Zyro Logo Maker Not only is one of the best free logo maker, but also very user friendly and easy to use. Thanks to this tool, even if you are not a professional designer, you can still design a beautiful logo.
When clicking the button Create Your Logo, you will be redirected to the template page. This page is very basic setup and has thousands of icons to choose from.
Designing online logos with Zyro is easy and flexible. You can choose the interface for the logo for free by entering the shape or image you want to enter. Then choose the logo position by clicking on the 4 icons next to the text Layout.
You can browse the shapes, sizes, colors and fonts to create logos that match the brand.
You can also download the logo immediately. It will be saved as a file PNG. Simple as that.
Visme has many online logo designs available to choose from and customize. Its modern tools have all the functions you need, like image editing, colors, fonts, and so on.
The project also has a self-save mode for safety during the design process. In addition, the history menu also shows all layers and elements of your design.
Free Visme subscription, however, you need an upgrade from the package Basic plan up Standard or Complete to use Premium resources and templates.
You can preview, share and download your project with 1 click. Share the logo by link or share it on Google. If you are not ready for everyone to see it, you can share it in private mode. Download your photos as JPEG, PNG, and PDF.
In fact, Oberlo is a dropshipping company, but it also provides several marketing tools such as a business name builder and profitability calculator. It also helps you to design free logos online. And especially very easy to use.
When you click Generate Logo, the page will scroll down to display the custom section. There are many icons for you to choose. You can also adjust the color, size and border of the icon.
After designing the logo, click Get your logo. The page will ask you to enter your email address to receive the download link. Logo will be downloaded in format PNG - Perfect format if you need online logos.
Canva has many professional templates for everything from resumes, social networking posts to business cards, etc.
In particular, you can design logos online easily by Canva. Just select the logo template. From here, you can edit logos, like changing backgrounds, changing text, uploading images and other things.
This logo maker is free, but you need to create an account to use. If you feel the free plan is limited, you can choose a paid plan to choose from a variety of layouts and other design stuff.
The logo you design will be automatically saved to your account so you can come back later. Just click All your designs on the left sidebar to review the templates. Finally, you can download the logo in the format PNG, JPG and PDF.
This free logo maker is very simple to use, with over 1000 designs to choose from.
To get started, fill out Company name and click the button Get Started. You will be asked to choose a logo design template.
After choosing the logo you like, you can start designing the logo online directly by adding text, icons, or even other tempalte logos. This logo maker also lets you mix with different designs as you like.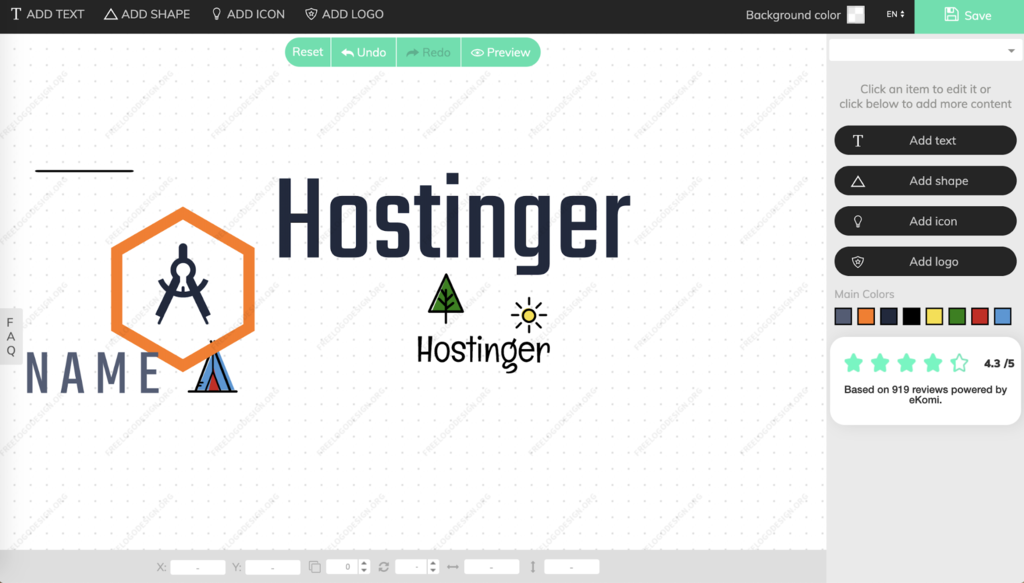 After clicking the button Save On the right hand corner, you will be redirected to the logo resolution selection page.
The free version will let you download files 200 x 200 pixels and high quality version 5000 x 5000 pixels will cost $ 39. You get the file PNG and JPG next to vector file with format SVG. However, if you only need a small logo is enough, you do not have to buy high resolution logo do.
When you open the LogoMakr page, you are automatically redirected to the edit page. This logo maker has many basic tools for beginners to easily use. You can enter keywords about the logo to be created in the search bar and select the logo design you like.
You can start designing your own logo with shapes, text and colors. When done, click the icon Save the logo in the upper right corner. There is an option that allows you to download high resolution images for a price $ 19, next to the vector files as PDF and SVG.
You can also download a low resolution logo design for free.
This logo maker has many templates available for you to choose from. When you click on a template, you will be taken to the edit page and you can design your own logo.
To download, you can click the button Download at the top right. You will be directed to a logo download page of a low or high resolution. High resolution logo designs are priced $ 24.99 for packages Basic and $ 49.99 for packages Advanced.
In the Advanced package, you don't just receive files PNG transparent and lifelong support like Basic package, but also get vector file in format SVG and copyright that logo.
Namecheap is a simple, free to use logo maker. On click Create Your Logo, you will answer a few questions regarding the font style of the logo, the icon you want and the color scheme for it. Namecheap will create the logo according to the results received.
The great thing is that this logo maker allows you to download high resolution images and vector files for free. You can use vector images to edit and align as desired.
How to design a beautiful online logo?
Everyone wants to design the logo so perfectly. It is very important to every brand. To bring brand effectiveness, a good logo needs to be simple, not outdated and easy to remember. Do not choose complex designs. Important is unique but still simple. It will help customers remember your logo and go deep into their minds. Also, make sure the logo is easily recognizable so people don't confuse your brand with other brands.
Be loyal to your choice. Do not change the logo too often because it will be confusing. Always make sure the logo you design matches your style. At the same time, your brand needs to be consistent across all communication channels.
Also, when designing logos with logo maker, if possible choose high resolution images. It is useful to apply both online and offline. Apple, Amazon, Nike and other brands are good examples of properly designed logos. These are all recognizable logos, not outdated and simple.
Summary
If you want to design professional logos, all of the free logo makers above are your good options. Not only are they easy to use, but these logo makers don't charge anything.
Here are 8 of the best free logo maker on the internet:
Zyro's Logo Maker - Simple and easy to use interface, suitable for beginners.
Canva - Contains thousands of professional logo designs for you to choose from.
Oberlo - Very simple logo design process.
FreeLogoDesign - It is very flexible, but you have to buy it to download a higher resolution logo.
LogoMakr - Very easy to use but higher resolution logos cost more.
DesignEvo - thousands of logo templates
Namecheap - The only logo maker allows downloading free vector files.
We hope this article can encourage you to design your own logo. Good luck!
About My name is Nguyen Manh Cuong. I was born in a poor village in Ba Vi district, HA NOI province - windy and sunny land. Currently. https://www.nguyendiep.com/. Mr Cuong.