6 tips to increase productivity from Hostinger
Tips
access_time
April 9, 2020
hourglass_empty
6 least Read
Productivity can really be affected by working from home. Planning, doing focused work and setting schedules - things that can help you.
Work from home is a growing trend over a period of time. The COVID-19 pandemic pushed thousands of people out of their offices and back home.
But whether you've been working from home for years, or just started recently - you're always hoping to fulfill your mission on time.
Productivity problems, it's hard to concentrate when living and working in the same place. After all, working in the bedroom can be very annoying.
Our Hostinger is also affected by the COVID-19 pandemic because all employees are working remotely. The decision was made - right in the night, to ensure everyone's safety.
Through effective communication, increased care for our employees and the right tools, we have successfully managed to change all our operations and start working from home.
Everyone has shared each other's best tips (and even shared their own dog) to ensure not only the highest productivity but also happiness.
Sharing is caring, so we want to share some of the top tips we've collected to help you work from home best.
1. Planning, planning and putting more plans
Plan your work as if you were running a Japanese train system - famous for being on time.
There are many different methods and techniques for planning tasks. It depends on whether you find the motivation to motivate you to work most effectively.
One of the most common techniques we use at Hostinger is timeboxing (set time frame). It is a simple technique to plan day by day and week by week.
In the plan, allocate time to specific activities or tasks. Whether it's a problem, taking breaks or spending two hours looking after your children while your partner works - timeboxing is sure to help boost productivity.
You do not want to write the plan on paper? There are many different software to support you - like Monday.com, Google Sheets or perennial product but still good is Google Docs.
Arnas Stuopelis, Hostinger Board Chairman said.
2. The most important is still the focus
Make a schedule for Slack sounds ridiculous?
Well, but if you realize how long it takes to regain focus after spending 10 minutes chatting on Slack or wandering around the kitchen, it won't be ridiculous.
Make a habit of scheduling everything - not just to meet deadlines, but to stay focused.
Sure, it is important to catch up with colleagues and share some gifs, but most of the day should be devoted to completing tasks.
If you struggle with losing yourself to unnecessary things, time tracking can help you.
Ieva Sapalaite, Our experienced Senior Talent Officer, thinks that:
There are many time tracking tools available online, test some and choose the one you like best.
A few suggestions for you: Clockify, Toggl, and Rescue Time.
3. Keep your mind sharp
For this, please trust us. Taking the time to learn something can promote greater productivity.
Learning a new skill doesn't just improve brain function, but also make sure you are competitive in the job market.
Employers should realize this and no secret is at Hostinger, one of our key values ​​is Learning and curiosity.
Laura Zelvyte, The Senior Content Editor and Team Lead at Hostinger recommend spending time learning and working with new skills.
Perhaps you would Improve your WordPress skills or build email list To help grow your business? Take advantage of non-scrolling time to do it.
But no need to do business anytime, anywhere.
You want build a website to show your home décor skills, right now.
Or, create blog to share your passion for the world and connect with like-minded people.
The opportunity to learn new skills is endless.
4. 'Go to work'
Working from home is still working - and it should be. Do not consider it an opportunity to sleep.
Definitely fascinating to put the TV and lounge around or have lunch for two hours, then take a nap. Especially if other people in the house are doing the same.
But do not be fooled.
While you may feel comfortable at the beginning of a 'work-from-home' vacation, it will kill your productivity and ruin your motivation.
Clearly you want to do your job well because you are looking for an article on how to work from home effectively.
So make sure to wake up at a set time and get ready for work as if you were working in the office.
Justina Bucinskaite, Creative Lead at Hostinger, also recommends stand-up every day and sprint every week with the team.
Stay professional and create your own motivation.
5. Tool support work
Working from home looks easy: find a chair, open a laptop and work.
However, the fact is that you may need more tools to work effectively.
Gabija JasiulionyteHostinger's Head of People says:
Working from home also needs the best noise-canceling headphones.
Really, very effective.
Reducing noise from children, pets and other household sounds is necessary. You will be able to focus and follow your scheduled schedule.
And last but not least, it would be great if you own a space dedicated to work. Ideally, it should be different from the space you spend most of your time in.
Creation. A sparkling garden, an attic or private room that you can (temporarily) convert into an office can be a good space.
Do whatever it takes to create a separate space to help you focus on your work. No distractions.
6. See it as normal
This is probably one of the most important tips we provide to you.
Those of us who are forced to work from home due to abnormal situations (COVID-19) may struggle with productivity.
As we say - you need to 'be normal'.
Without overcoming fear or anxiety, it is easy to lose focus and become less productive.
So, for the sake of your mental health, do your best to maintain regular activities. It keeps your mind away from things you can't change.
Laurynas Bickauskas, Front-end Developer at Hostinger, says that he immediately realized the importance of keeping everything 'normal' when working from home.
So think about what you usually do with your colleagues at the office and adapt to your work at home.
And don't forget to post pet photos, funny memes, gifs, and emojis. These replace some of the small interactions you often have at work and keep yourself healthy.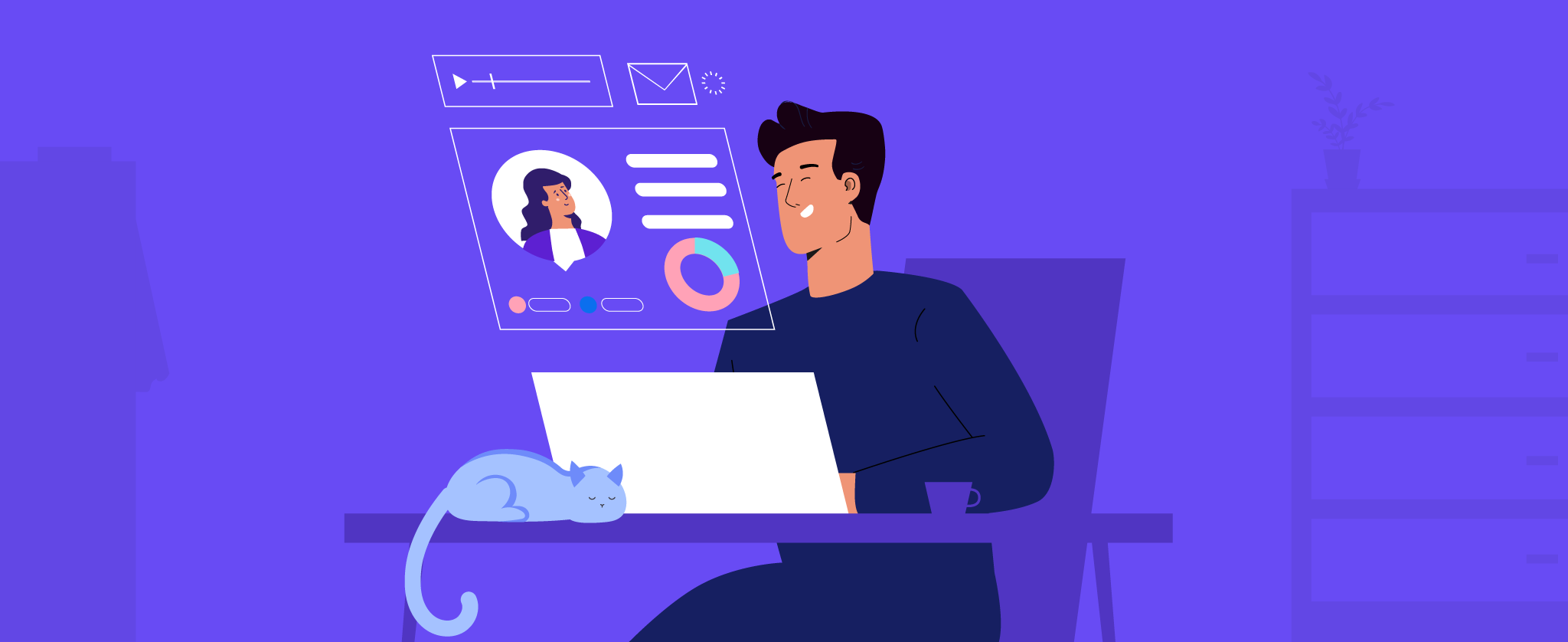 About My name is Nguyen Manh Cuong. I was born in a poor village in Ba Vi district, HA NOI province - windy and sunny land. Currently. https://www.nguyendiep.com/. Mr Cuong.