4 ways to turn off applications that are currently stuck on macOS - Knowledge sharing blog
Note: Please read the article carefully before proceeding! If in the process of using you encounter any errors, such as broken download links, slow loading blog, or unable to access a certain page on the blog ... then please inform me through the Contact page. Thanks!
The application hangs, or we are used to calling it sluggish, lag ... is a phenomenon that can occur in any operating system, not just Windows, Linux, Android or iOS ... but macOS is also not foreign. rate.
Once the application is in stasis mode, you cannot use diacritics X on the window, or any other button of that application to turn it on / off.
At this point, if you use Windows 10, you will immediately think of Task Manager to disable the suspended applications.
Yes ! On Windows 10, or on Android or iOS, it is very easy to close the suspended application, but I find many people who are new to macOS are often confused, do not know what to do when encountering a Application hangs / freeze on this operating system.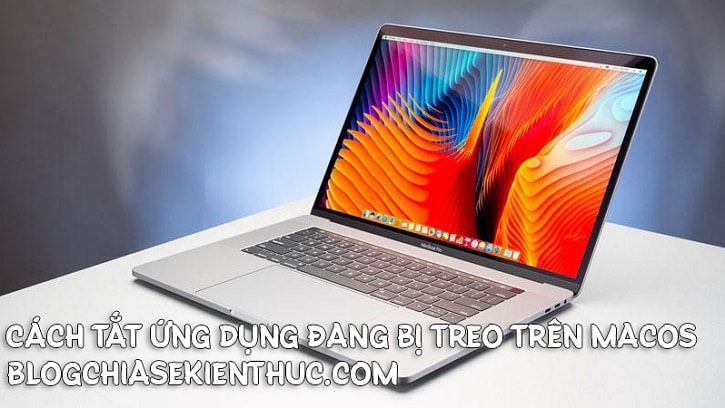 And certainly, in this article I will guide you how to turn off an application that is currently suspended on macOS Apple's simplest and easiest way!
Read more:
I. Summary of ways to disable frozen applications on macOS
As I said above, unlike on Windows 10, when you encounter a frozen application, you just need to open Task Manager, then navigate to that application and click End Task is done.
Shutting down applications on macOS is much more complicated, which makes many of you not sure what to do, which is understandable once they've clicked. Quit or Close and that application still won't quit.
If you are also having this problem, please use 1 of the 4 ways in the tutorial below!
If you are using and your application is suddenly frozen, you have clicked Quit / Close and still do not work, then we will have to use a feature named Force Quit - does that mean Force escape.
Once you have activated the command Force Quit Well then, even the most stubborn apps have to quit.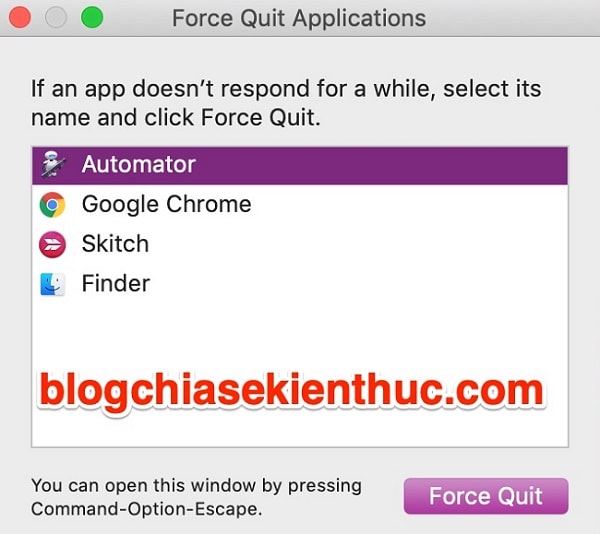 Apple is also very thoughtful when it comes to equipping us with a small application to help execute this command more simply, it is also called Force Quit and located in the Apple menu in the status bar.
Note that you will not be able to find it in Search Spotlight because it's not an app, it's just a small feature.
Perform:
+ Step 1: To open this feature is also very simple, just open the Apple menu and you will see the line immediately Force Quit
Or Use always key combination Command + Options + Escape (ESC) on the keyboard for quick.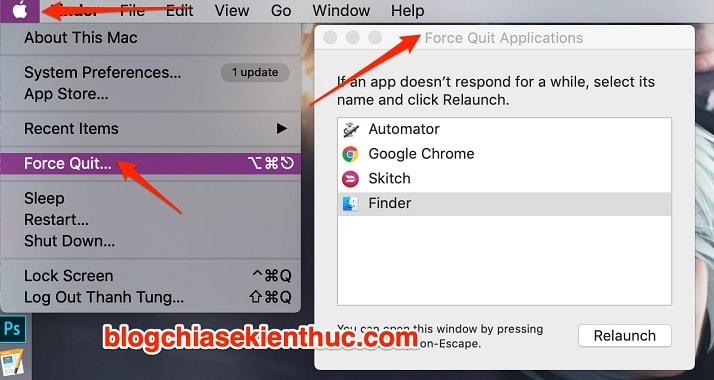 + Step 2: Then in the window Force Quit Applications You will see a list of currently open applications, and of course those that are currently suspended.
Use your mouse to select the application you want to force it to exit => and then click Force Quit Below, here I take an example of the Spark app open.
Immediately there will be a pop-up warning that this will cause loss of data that you have not saved up => finally click on the button Force Quit on the pop-up will appear: => The selected application will be closed.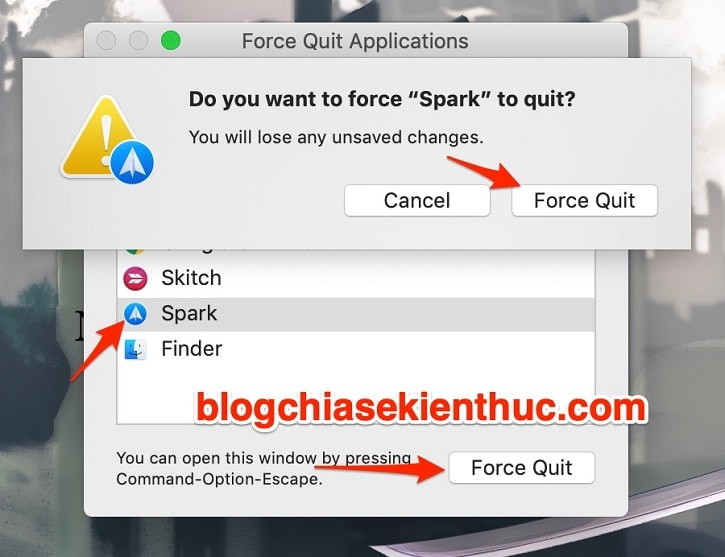 #2. Use the Dock to exit the application that is currently suspended on Mac
Similar to the Taskbar on Windows 10, the macOS Dock is where you can pin frequently used apps to open faster, and the icons of the applications will also appear on this Dock when you open it. them.
It is for this reason that you can completely exit a suspended application using the Force Quit feature in the application menu in the Dock.
Perform: How to perform extremely simple, you just need to right click on the icon of the application is frozen in the Dock => and then select Force Quit is done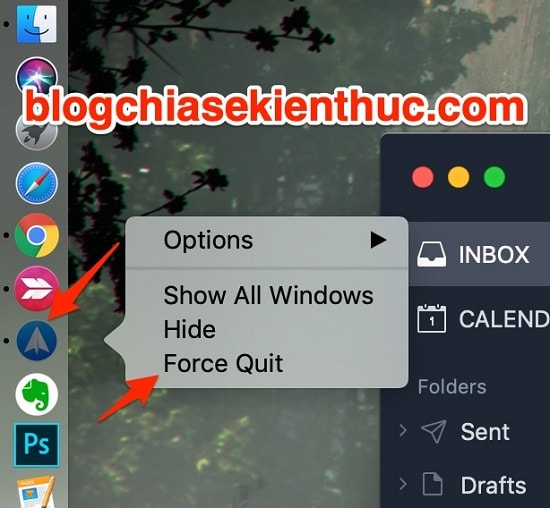 Also feature Force Quit is also the Apple Menu, but for this way, you can exit the frozen application directly with the Apple Menu without opening Force Quit up again.
Perform: The procedure is very simple, first click on the icon of the application in the Dock to select it.
Next press and hold the key SHIFT At the same time click on Apple Menu, you will see the line immediately Force Quit + (Tên ứng dụng đã chọn) in this menu.
=> Finally, click on the line Force Quit + (Tên ứng dụng đã chọn) is okay.
//* read more *//
As you know, using keyboard shortcuts is always the fastest and most convenient way when you want to do any job.
The equivalent of holding the SHIFT key and selecting Force Quit above, you can also quickly activate this feature using the key combination. Command + Shift + Options + Escape (ESC) Please !
And to turn off an application in the normal way, still exit but not working with applications that are suspended, click Command + Q is to be.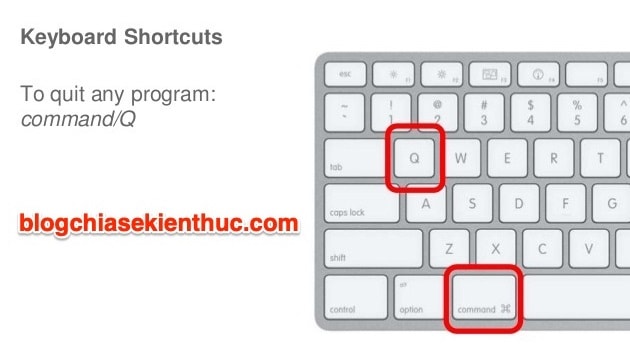 // * out of reading more * //
# 4. Use Activity Monitor to close the frozen application
If Windows 10 has Task Manager, then on macOS we also have a similar Task Manager with the name Activity Monitor.
It allows you to keep track of all processes running on macOS systems, such as RAM, hard drive, CPU, network usage, etc. such as Task Manager.
However the interface of Activity Monitor I think it is a bit difficult to use for new people, but once you get used to it, it becomes a much more powerful tool than the same function on Windows 10.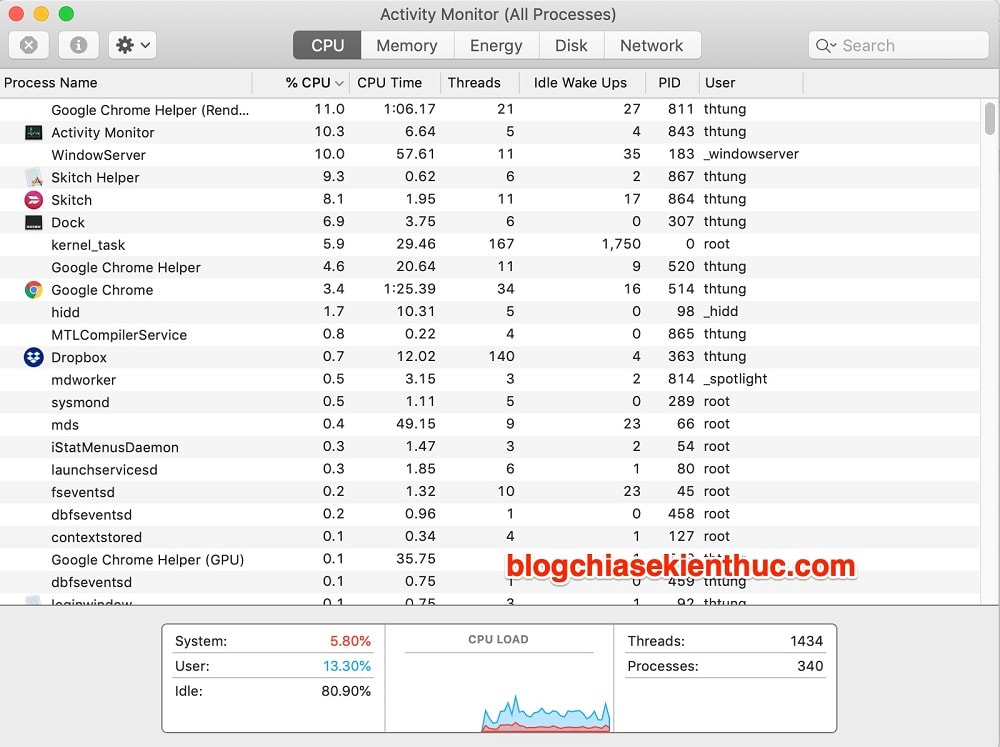 And of course, you can also close all applications, even applications that are suspended on your computer.
Perform:
+ Step 1: To do so is very simple, you first enter the keyword Activity into the search box Search Spotlight => then press the key Enter to open Activity Monitor Please !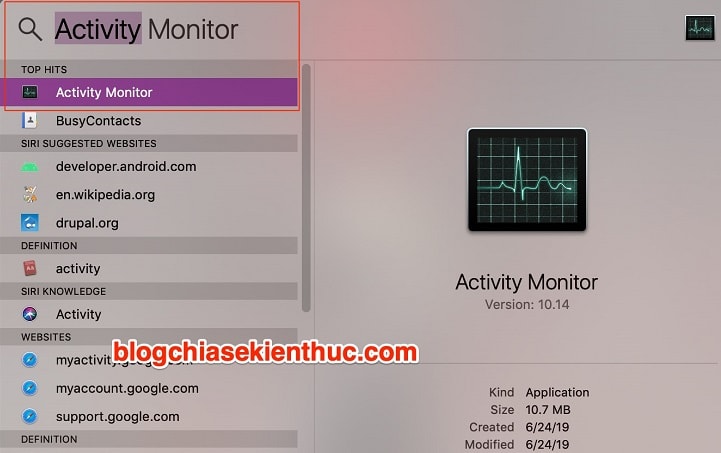 + Step 2: At the main interface of the application Activity Monitor hey, scroll down and navigate to the application that is hanging => then double-click on its name.
+ Step 3: Immediately a window displays detailed information about the progress of the currently selected application such as Process group, User use, Level of use RAM hardware, CPU, Network, ... so you can easily monitor.
=> Click the button Quit to proceed with closing the selected application.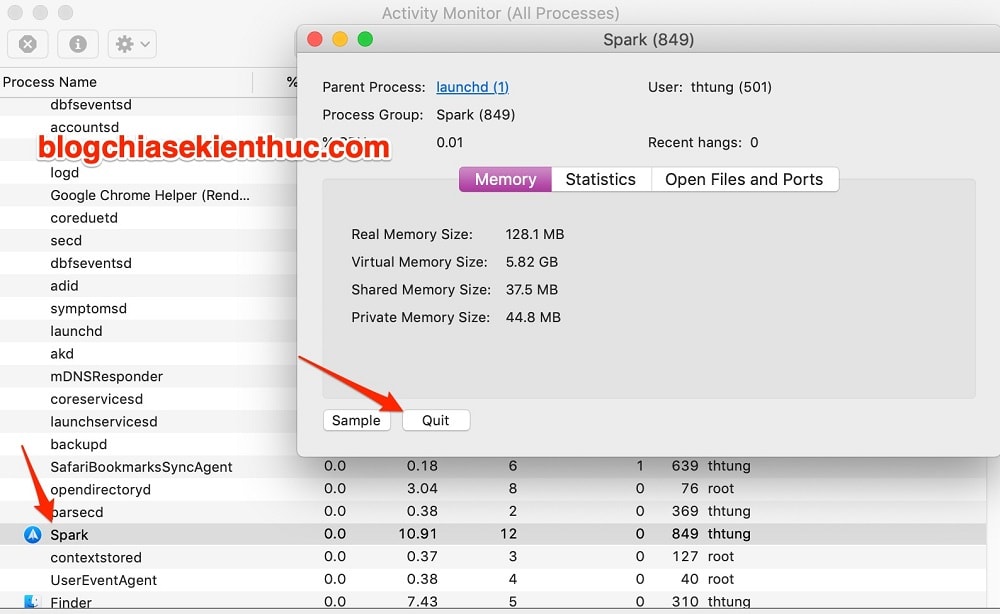 Finally, a pop-up appears asking if you are sure you want to exit the selected application? And you can also easily button Force Quit - Forced to exit beside.
And now you know what to do, right? - Click the button Force Quit That's it, the app will be closed after that.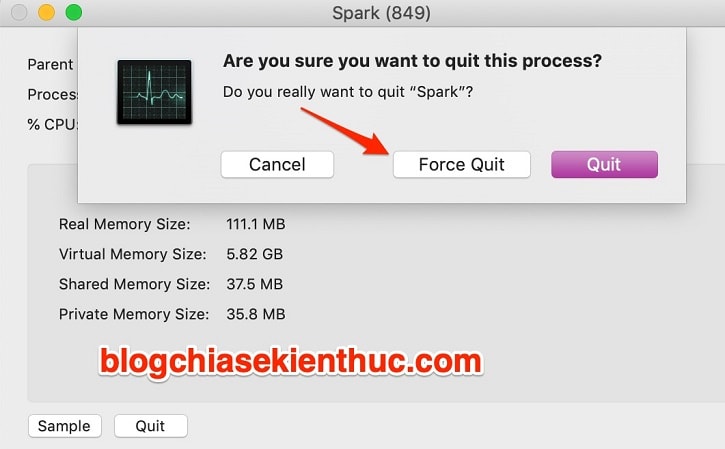 II. Epilogue
Above is the article summarizing 4 simple and effective ways to help you turn off an application that is currently suspended on macOS.
You choose which way is simple, easy to use and consistent with your usage habits for convenient use, but if your Macbook constantly experiencing stagnation, application lag, consider upgrade hardware, maybe the machine is not able to carry that application anymore.
Hopefully this article will be helpful for you. Good luck !
CTV: Nguyen Thanh Tung - Blogchiasekienthuc.com
Note: Was this article helpful to you? Do not forget to rate the article, like and share it with your friends and relatives!
About My name is Nguyen Manh Cuong. I was born in a poor village in Ba Vi district, HA NOI province - windy and sunny land. Currently. https://www.nguyendiep.com/. Mr Cuong.