18 best online teamwork applications that support "work from home"
Marketing Tips
access_time
April 14, 2020
hourglass_empty
16 least Read
Due to the COVID-19 pandemic, many countries around the world have close the border. To limit contact between people, working at home to avoid contact with others is very important. When working at home for days, many people are disturbed and tired. But don't worry. There are many tools that can help you collaborate with colleagues. Many teamwork applications also support you to increase productivity.
These are the most effective teamwork apps that are worth exploring.
Slack is one of the most effective teamwork applications for business or team. It can instant message and create private or public channels for groups or projects.
The interface may take some time to get used to because there are so many options and settings. Most of you will use the slider on the left - with multiple channels attached, and a chat column. The third column will slide out if you want to see the article, and details about the user or channel.
There are many settings in the message you want to post, such as inserting links into text, changing to blockquote and code format. Plus, chat messages can be easily edited.
You can also share files like photos, documents, and videos from your computer or from Google Drive. Or chat with colleagues using audio or video calls and share screens.
Here are some benefits of using Slack:
There is a version for desktop, web and mobile phone
Integrated apps - Gmail, Google Calendar, Office 365, Trello, and 2000+ others
Message searchable and maybe tick or pin
Notice to each individual at your disposal
Automate routines and communicate through Workflow builder.
Ensuring information and data is equal 2-factor authentication and Single sign on based on SAML (SSO)
Free version is strong enough to get you started. But if you need security solutions, more storage, group calling, support and other extra features, you can buy a paid plan. Package standard and pay the fee value in turn $ 6.79 and $ 12.76/ person / month
Trello is one of the best tools for project management and teamwork online. It is based on the idea of ​​the task cards in the list placed on tables. The drag and drop feature also makes the process seamless.
You can easily invite coworkers with usernames, emails, or share links to invite them. There are many options displayed on the board like - private, group, organization, and public. You can also change the background and the color of the palette as you like.
Tags can be assigned to members, labeled, select expiry dates, and attachments. Moreover, you can add power-ups and add-ons like Dropbox, Google, Drive, Slack, etc.
Benefits of using Trello:
Choose from many templates Available for tables
Easy to use interface
Apps for phones available for iOS and Android
There is Butler and Automatic workflow build
Use 2-factor authentication for the whole package for free
If you sign up for the free plan, you get unlimited personal tables, cards, and lists. However, to increase security, add group tables and unlimited power-ups, you need to register for a premium plan.
Package Business Class value $ 9.99/ person / month. Package Enterprise maybe from $ 5.92 come $ 20.83 Depends on the number of users.
Github is a git repository hosting service for version control (tracking changes), mostly code. This is one of the most popular online workgroup applications used by programmers.
However, teams in many different areas can use this application to manage tasks and track performance. Because the projects are updated in one place and clearly, the manager can follow the process easily.
You can create problems for groups and drag them to different project tables and tables. Collaborators can designate themselves on the issue, comment, add links, insert code, or close the issue.
Other benefits:
Repositories private and public unlimited
Have repository insight showing activity by trends and data
Have milestones, pages, and wikis
Automatic security updates
Github for valuable group $ 9/ user / month with $ 25 for the first 5 users. This package adds 2-factor authentication, group discussion, organization management, and groups, plus role-based access control.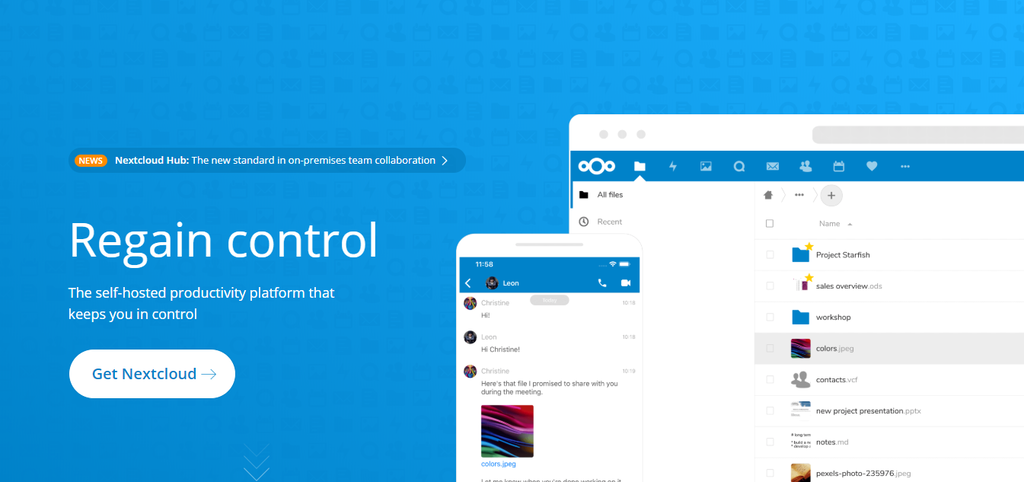 Nextcloud is the ideal self-hosting platform for companies that need increased security. Because data is stored on your own server, leaks and security risks will be minimized.
With this group task manager, you can manage it all. Include: calendar, files, emails, contacts, activities, and Upload media in the same place. Creating, sharing, leaving comments and editing documents with team members is easy.
This application has a task board built like Trello, where you can insert task cards and assign people to do. Chat and video features are also integrated to help you easily take notes when meeting online.
Other strengths of NextCloud:
Open source
User interface neat and intuitive
You can Automatic repeating tasks
Functionality is renewed via apps
Version available for computer and phone
If you plan to use NextCloud, you can store it on the server Cloud Hosting Hostinger's price is only from VND 138k / month.
Google Docs is one of the most popular teamwork applications. This application allows groups to create, edit and share documents. The interface is like a different text editor with the toolbar at the top and its documents.
You can suggest editing, plus leaving comments and tag team members. Email notifications are automatically sent to members so you don't need to notify them every time.
You can share documents by link or email. As the creator or admin, you can install the file only you see, allow people to leave comments, or edit options.
Its features are renewed by add-ons as SEMrush, Grammarly, etc.
Here are the benefits of using Google Docs:
Review history and edit accordingly real-time
Available mode offline
Support Google Voice Typing
You can download the version iOS and Android
Not only is it a free and easy to use teamwork application, it is also excellent and convenient for projects focused on content creation.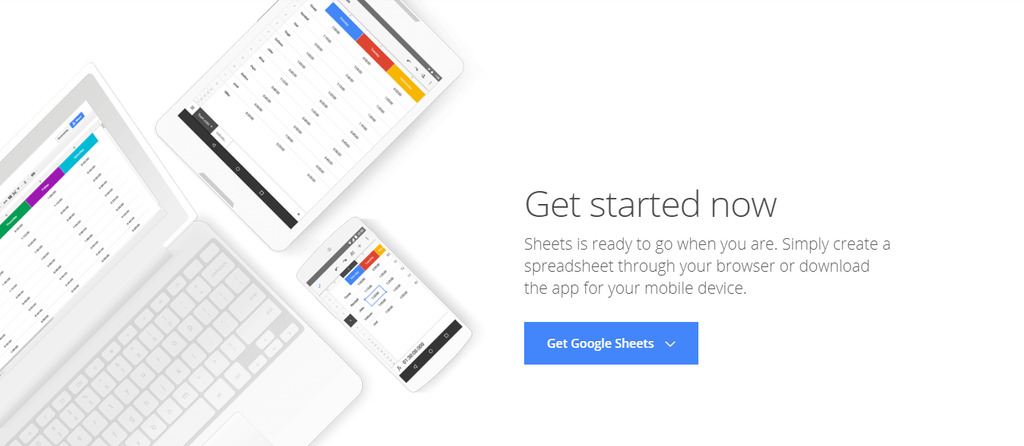 Google Spreadsheets also have many basic functions similar to Google Docs. You can create spreadsheets online, edit and share files with team members.
Changes will save automatically. You can review the courtesy sorted by date and by person changing. These sheets can be edited offline and automatically synchronized after you are back online.
This flexible and powerful application so you can manage projects and track team goals. However, you need to have technical knowledge to use it to function properly.
Other benefits of Google Spreadsheets:
Templates available for funding, calendars, etc.
Collection Self-built function big
Mobile version available
Integrate Google Forms and Google Docs
This online teamwork application is free and not eye-catching. Its functionality can be extended with add-ons from Google Analytics and Lucidchart.
Monday is a quick project-based project management application and task board. It has an attractive and neat interface to create and complete projects perfect for everyone involved.
Custom templates are available, plus a drag and drop feature to help you easily get started building your project workflow. You can customize fields from branding, tables to user profiles.
Tasks and projects can be tracked by the hour or by expiration date. You can also set up automatic recurring activity. You can communicate with team members using instant messaging in the assigned task.
When using Monday.com, there are:
14 day trial, and a money-back warranty within 30 days
Tutorial by video for new users
Available apps for mobile
Integrated extended functionality of the application - Gmail, Slack, Google Calendar, Github, etc.
Insights and reports are displayed according to charts and timelines
Monday used encode TLS and AES for security solutions, and you can always enable 2-factor authentication.
There are prices for premium packages, depending on the number of users. Package Basic from $ 39- $ 999/ user / month.
Asana is one of the most used teamwork applications with an attractive interface and a free version. It features easy drag and drop when working.
Its table is also useful for creating to-do lists and task assignments. A task may be in multiple tables. Timeline A great way to track project progress, while Calendar displays your calendar in line.
Workload is a statistical feature that you can use to make sure team members don't overwork or work poorly. Portfolio like headquarters, where you can track the progress of the company.
This application will not need the use of emails because notifications will be installed in real time to communicate around the tasks and projects you are a member of.
Here are its benefits:
Certification SOC 2 Type II
Integrated apps - Tableau, Office 365, Slack, Power BI, etc.
A lot of workspaces
Available mobile version (Android and iOs)
Automation to simplify the process, save time and reduce errors
Free version Lets you work with max 15 member. Paid plans with a trial version 30 days, but you need to provide credit card information.
Package high class price $ 10.99/ user / month, and package Enterprise valuable $ 24.99/ user / month. You will be provided with many advanced project management applications and reports, plus priority support.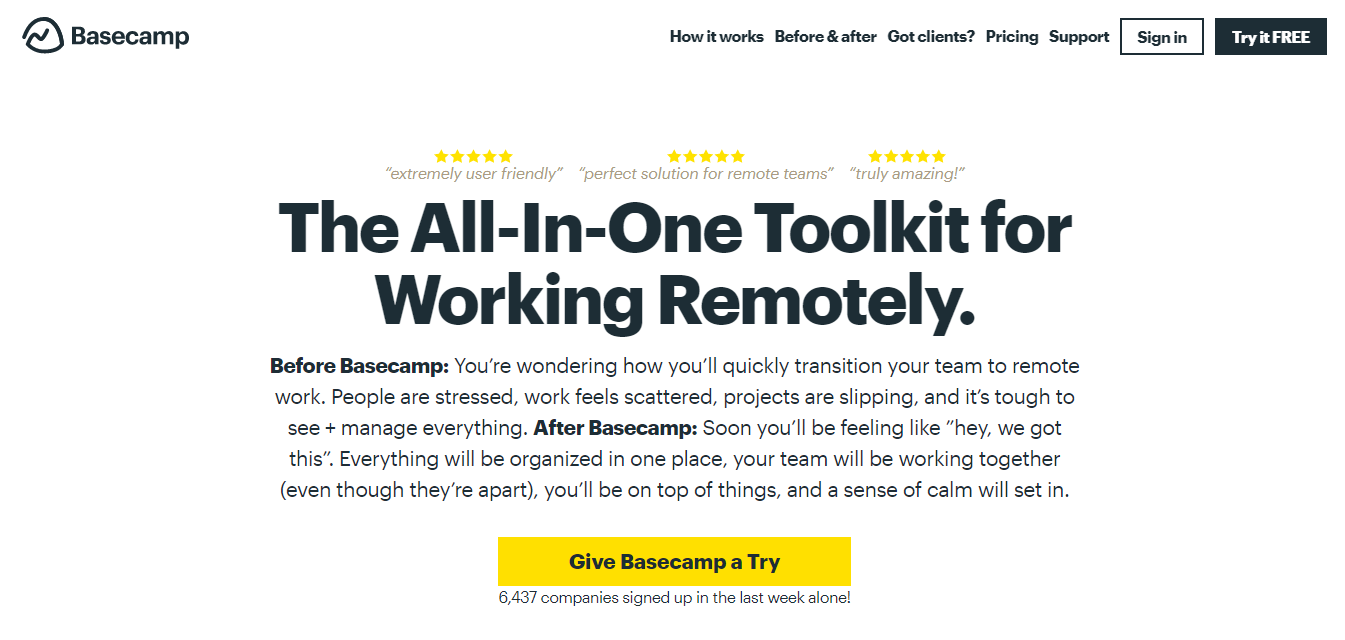 This is a comprehensive group work and communication management software. You can divide the work into projects, with each project containing people involved, tasks, files, and discussions.
There are tools like message boards for notifications, group chats, a calendar creator to help you create your workflow. It has features like time tracking and turning emails into to-do lists.
Other benefits of Basecamp:
Automatic recurring questions or sign up for membership
The tool is named or disabled
Notification settings custom
Dashboard operation overview for managers and task menu for individuals
Basecamp Personal is free but has limited features. It is handy when used lightly, personally, for freelancers, and for students. You can create 3 projects, 1GB capacity, and until 20 members.
For unlimited projects, clients and users, templates, 500GB of storage, for headquarters, Additional priority support, you will need to upgrade it Business packagep. Price is $ 99 / month.
Integrating with Office 365, Microsoft Teams combines group messaging with video meetings, file archives, and attachments. Team members can work together on a variety of word files Word, Excel, OneNote, Sharepoint, and other services of Microsoft.
The beauty of this teamwork application is that you can personalize it as needed. There are chat rooms for different groups, custom tabs to access information and apps on a regular basis. If you don't want to start over, you can use that templates available.
There are settings for outsiders to access the meeting or view files.
Benefits of using Microsoft Teams:
Multi-factor authentication for security
Translate the message inside for non-English speaking users
Have 24 virtual assistants with many functions
Commands Slash Works as shortcuts with different tasks
Used in many devices - Windows, Mac, Linux, Android, and iOS
To use Microsoft Teams, you need to have Office 365. Pack installed Enterprise was $ 8.25 / user / month. Package Premium Business valuable $ 12.50/ user / month, You can use the free trial for 1 month.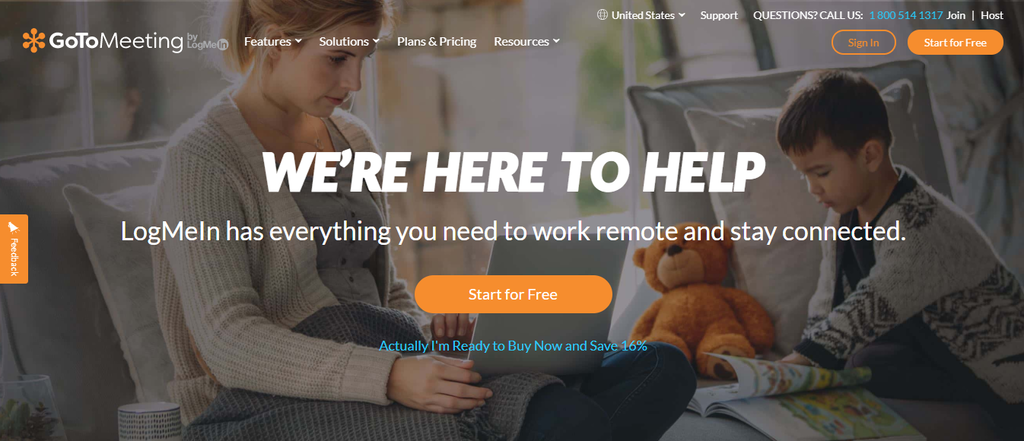 If your business attaches importance to video meetings, GoToMeeting is the teamwork app you should be. It is important that participants do not need an account to be able to meet.
With this application, you can arrange online meetings with HD audio and high quality. Group members can join the meeting by dialing the call of the meeting or simply answering the phone when using the feature Call Me. It also has screen sharing option available.
Other benefits of using GoToMeeting:
Host Unlimited meeting, Unlimited time
Create The link does not change for recurring meetings
Data is secured with risk-based authentication, data center certified by SOC2, SSL, and AES-265 BIT encoder
Join or host a meeting when using apps on phones (Android / iOS)
14 day trial, and customer care 24/7 by web or phone
Professional Package is priced $ 12/ month has many essential applications you will need to organize the meeting, including the features mentioned above. However, you can only host 150 people.
If your group is larger (up to 250 people) and you need additional services like unlimited cloud recording, transcripts, and integrated add-ons, you need to upgrade. Business plans will cost $ 16/ month.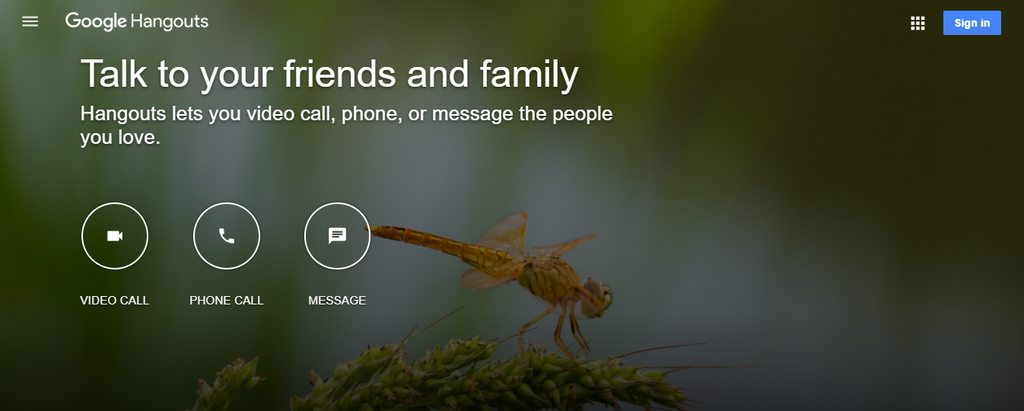 As part of the G.Suite ecosystem, Google Hangouts is an online teamwork application that is useful when working from home. You can create group messages for the group or make audio / video calls. It's good for online meeting.
You can split group chats into groups and projects. Plus, the chat history is saved automatically so you can return to check or review it.
The interface is simple, neat and clear. Meeting or group setting is convenient because it integrates Google Calendar and Gmail.
Some benefits:
Free and easy to use
Feature screen sharing
Record meeting
Available for Android and iOS
Google Hangouts is a useful app when you have to work with colleagues remotely. The application is hassle-free and has the necessary features to conduct meetings on the web.
13. Skype for Business
Skype for Business is one of the most popular online teamwork applications and is part of Microsoft Office 365. This app can contain 250 participants including non-Skype users.
Web Scheduler Help you arrange meetings quickly and effectively. Team members can join the meeting with just one click or through the calendar reminder.
There are controls available only to the presenter, such as turning off the audio for all or the individual or locking the member's video.
Another one is Group Chat Allows you to create multiple group chats. You can share files, and chats will be saved automatically every time so you don't need to go back and see. You can also set the chat room security.
Here are the benefits of using Skype for Business:
Meeting followed calendar from Outlook
You can screen sharing, use PowerPoint and sheets Excel
Audio and video quality HD
Meeting application provided virtual board, create poll, and Q&A
Presenters can record different aspects of the meeting by video, audio, sharing session, etc.
All data is protected by encryption TLS and AES
Skype for Business can do more than just an application for communication. We recommend you to try it out.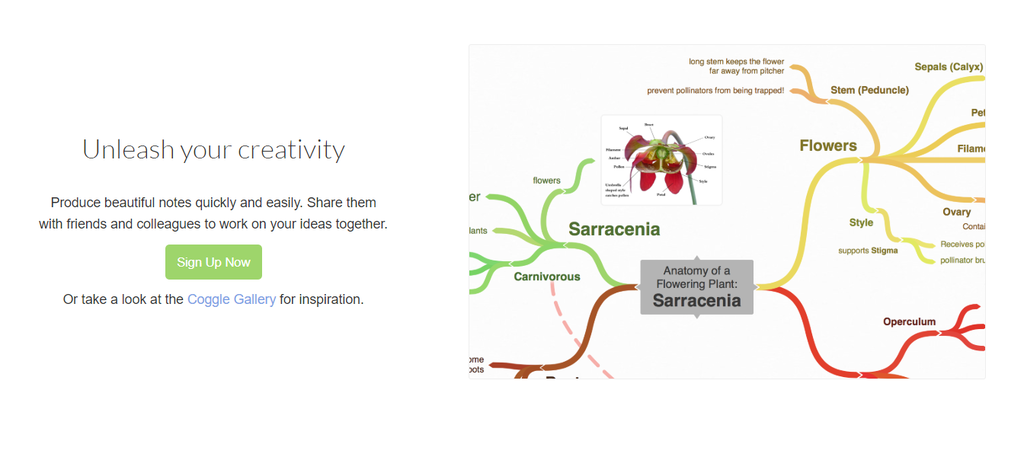 If you are looking for a mindmap drawing application in a group, then Coggle is the solution. You can use the app to take notes during meetings or when you create content. Plus, you can add team members to contribute or edit diagrams.
This application allows you to create mind-maps Strong and flexible. You can add multiple starting points, draw branches to create loops, and add text or pictures outside the diagram.
Here are some of Coggle's strengths:
Quick installation, and the interface is easy to navigate
Provided public diagram and Upload the image unlimited
View and archive history full
Convert diagram to file PDF or PNG
Import or export diagrams MM and text files
With version free, you will have 3 private diagrams, shared folders, 1600 icons, and auto branching. If you want style and direction control, offline editing as well as unlimited privacy schemes, choose the package awesome with $ 5/ month.
Draw.io is another powerful online mapping application that can be integrated with Google Drive, Github, Trello, and Dropbox to teamwork. You can publish diagrams, create links, and share with colleagues to edit together.
Because of its rich functionality, you can create many different types of diagrams like flowcharts, network diagrams, infographics, etc. Like many spreadsheets, there are many page options so you don't need to open new files if the project requires a diagram.
You can use it offline by downloading Apps are available for computers by Draw.io for Microsoft, Linux, Macintosh, and Google Chrome Extension.
Other benefits of Draw.io:
Translate more 30 language
Display custom when you need
Use drag and drop feature
Collection cubes and templates big
The application is completely free to use and open source, very useful if you need a quick solution to display the workflow.
TickTick is a performance or task management application that allows you to create project lists by collaborating with various members. You can assign tasks to each defined member, mark the priority, and set reminders.
Moreover, all platforms are available - Windows, Mac, Android, iOS, Apple Watch, Chrome and Firefox Extensions, plus add-ons on Outlook.
Additional benefits of TickTick:
Widgets for mobile, additional Siri and install Quick Ball available
You can change it to-do list in emails Tasks with just a few mouse clicks
Have achievement points to help you keep track of time and tasks
Create Performance statistics so you can review the workflow
There is a timer Pomodoro Technique with white background noise.
This application free use. If you want more functionality, you need to subscribe to the premium annual package $ 27.99. You'll get access to the entire calendar and settings, as well as many lists and tasks in addition to helping you keep track of shared projects and processes.
Also part of G Suite, Google Drive is a cloud-based storage management service. It also allows team members to store, edit, share and access files, specifically from Google Docs, Sheets, and Slides.
You can track company data. Plus, as admins, the app can allow you to add and remove members and specialize in the rights of certain files.
Google Drive also syncs files across multiple devices, plus has apps for Windows, Mac, Android, and iOS potentially offline. Therefore, your team can access to work with files anywhere and anytime.
Free Personal package will give you 15GB storage. G Suite Basic package, price $ 4.20/ user / month you can get 30GB. With Drive Enterprise need $ 8/ user / month to activate.
Here are the other benefits of using Google Drive:
Compatible with more 100 types of files
Files remain in the group drive if the member leaves
Data is protected by many advanced tools such as Data loss prevention (DLP) and Google Vault
Feature Find Priority allows you to find files faster using machine learning
Avoid the risk of downloading all company data to a hard drive
You do not need to worry about losing data or creating backup files anymore. Data was safe on Google Drive. Certainly this essential tool will be needed for online group work.
Dropbox Business is not only a place to store and access files, but also a group management application. Files from different platforms like Google G Suite and Microsoft Office will gather in the same place.
Monitor group activity and edit shared links easily, plus you'll be notified when changes are made. The Dropbox Showcase feature allows you to display your work organized, and you can track who interacts with files.
You can extend functionality as well as integrate apps like Slack, Zoom, Office 365, Trello, and many other apps. You can access the app from your computer or mobile device, plus changes from you can be synced using your account.
Moreover, your data and files are protected by SSL / TLS protection and 256-bit AES.
Standard package worth $ 12.50 / users / month, starting with 3 users. You can receive 5TB Capacity. Also you can easily use sharing and teamwork tools if you need a lot of storage.
With Dropbox Business, you can:
Trial 30 days without credit card
Regularly access files / apps by clever content suggestions and bookmarking
Recover files and view history within 180 days
Customize sharing permissions like setting expiration times and links to protect passwords
Managing multiple groups Dropbox but only need to login admin 1 time
Dropbox Business is a powerful teamwork application that can help you track and manage team performance and data.
In short, what are the best teamwork applications.

Teamwork online will no longer be tiring as there are many applications that will help you. These applications allow you to manage tasks easily, communicate with team members, and track performance during hard times.
Now let's summarize the best teamwork apps for working from home:
You can freely try, these teamwork applications are very safe to take advantage of. And if you have a good app, let us know in the comments.
About My name is Nguyen Manh Cuong. I was born in a poor village in Ba Vi district, HA NOI province - windy and sunny land. Currently. https://www.nguyendiep.com/. Mr Cuong.