15 Good Tips on Content Marketing that is long lasting
Have you ever wondered what is the driving force behind successful online businesses? It's not SEO or social networking but content, content marketing.
Content marketing, when done right, can change the growth of any website.
Follow our 15 content marketing tips below to increase your rankings and traffic.
What is content marketing?
There are many complex definitions of content marketing but one that simplifies my own definition is:
Content marketing is the process of creating content for the purpose of increasing your web traffic, acquiring new customers, selling more or simply increasing brand awareness.
Take some time and think about what the Internet really offers for everyone - it has different types of content through different channels (website, social networks, email, apps, forums, etc.).
Content marketing is considered to be a more formal type of media. In other words, instead of publishing content on the Web without purpose, you create and distribute content to meet specific marketing goals.
What is the content?
In the context of content marketing, content is everything that can be published on the web. For example text, videos, images, infographics, graphs, audio, pdfs, podcasts, slideshows, etc.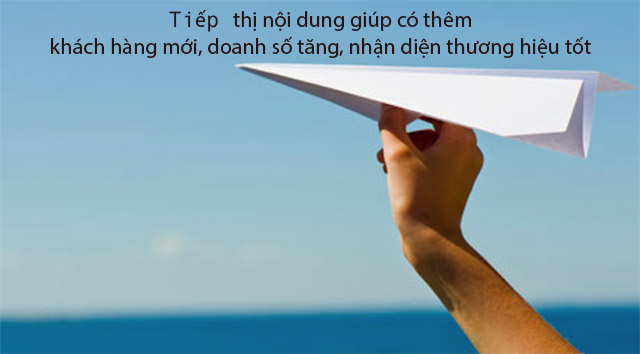 What are the advantages of content marketing?
Content marketing has many advantages to offer an online business because content is the starting and ending point of any online campaign.
Specifically, the benefits of content marketing are:
Get more targeted visits from Search Engines - Good content can have higher rankings and more targeted traffic from search engines
More hits from social networks - Good content is more likely to be shared on social networks, which in turn can generate more traffic to the site.
Increase user engagement - Users engage with good content by providing reviews, reviews, ratings.
Very good for SEO - Good quality content is the focus of SEO.
Increase brand awareness Publishing great content is one of the best ways to promote your brand and reputation online.
Convert more - Good content can generate more leads and increase sales.
15 great tips on content marketing
Let's get started on the details of each tip, guys
# 1 Create a content marketing plan
A successful content marketing campaign starts with a good plan.
When we talk about content marketing, the first thing that comes to mind is blogging.
This is not wrong, but having a content marketing strategy, it's not just about setting up a blog and starting to publish content.
Blogging is an important aspect of content marketing, but that's not the end of the story. It just has a means to implement your complete content marketing plan.
A well-constructed plan must include all of the tips outlined below.
# 2 Publish natural content
The first item in your plan is the type of content to publish.
To be successful in the long run, you need content that is naturally natural.
Natural content has the following characteristics:
It was unique and unique
It is useful
It is always relevant (not only related to a specific time period but it is relevant whenever the user reads it).
It is well-written, detailed and informative content.
It's searchable - it includes topics that users search in Google
Having regular content will help you establish a solid online presence and additional technical impact will also help you. Get TOP high on Google, which will help you gain more traffic.
# 3 Write for users, optimized for search engines
I know it's a cliché, but that's the truth. When thinking about content, you should write for users and optimize for search engines.
I know maybe some people disagree with this method, but let me explain why both are equally important.
Search engines serve a purpose, which is to satisfy users by answering their questions.
If you are only interested in what people want to read without taking into account what search engines can understand then you will publish great content that no one reads.
On the other hand, if you first think about your users and the type of content they need and then optimize it for search engines, you will find mutually beneficial.
Suggestions: In a previous article I presented about writing responsive technology for search engines, clever at responding to users. Everything is explained in detail in the article What is standard SEO content? 12 steps well done
# 4 Content marketing, SEO and social networking are the best options
If you manage well and make these 3 tools work together, you have more chances to succeed on the internet.
You need content to enhance SEO and you need content to cater to your social networks.
Anything you publish in your blog or website must be part of your SEO strategy and be consistent with your social media marketing strategy.
Before creating a piece of new content, make sure it is appropriate for SEO and social networks.
# 5 Build the relevance of your topic
When you start publishing content on your website or blog, make sure it is relevant to your field and expertise.
For many people this may be obvious, but some people still get it wrong.
For example, if you're running a tech blog, you shouldn't publish a cooking article just because you like it. No one penalizes you for doing so but the chance of getting benefits from that post is minimized.
The best approach is to publish relevant content that is consistent with the overall goals of your website.
For example, if you are selling an espresso machine online, then in addition to providing all technical information about your product (specifications, photos, reviews, videos), you should also provide a blog with articles related to coffee (concoctions, drinks, recipes, tips, etc.).
# 6 Publish standard content thoroughly
When it comes to text content like blog posts, various studies have shown that long content (over 1500 words) rank higher in search engines and it can get more shares. on social networks.
The lesson we can draw from these studies is to publish a long detailed article covering all aspects of a topic instead of publishing 2-3 smaller articles.
Because long content can be shared more on social networks, this means that you not only show search engines and indexes but also give users what they want.
# 7 Publish content that can get shared
You need to search social networks and find out what kind of content people like.
For example, fashion searchers may want to see more images and videos than text content. This means you should adjust your content marketing strategy to meet this need.
Some ideas for shareable content that are suitable for all areas are:
TOP 10 ... world leading
TOP ... the best
How to …
10 ways to achieve ...
The fastest way to ...
Good tip for ...
# 8 Pay attention to the content format
Good content provides original, well-researched and unbiased information on a given topic.
Even if your content meets the above criteria, it still needs to be well presented.
Because the content I look good means the text is made beautiful by using paragraphs, bold, italic, headlines, good font size, etc.
Note that your content format is also good for SEO and is a sign that you are trying to build a high quality, professional website.
In general, if you manage to combine different types of content together (i.e. text, images, videos) then this makes for a better user experience that will generate some other benefits.
# 9 Publish content consistently
Besides providing up-to-date and accurate content, another tip you can follow is to make sure you schedule a consistent publishing schedule.
Having a predefined publishing schedule will help you schedule better times and will also help you build a list of loyal followers.
Don't forget that new content is also a motivation for:
Search engines come to your site
Get more visits from your news feed and RSS feed
Get lots of hits from social networks
Keep visitors coming back and feel happy
# 10 Create catchy titles
The title of a page or article is important for several reasons. A good title will:
Help search engines understand what the content is about
Help social networking sites understand what you're sharing
Get users' attention and encourage more clicks to visit specific pages
So before hitting the publish button, make sure your content has an engaging and optimized title.
Suggest read more details about Title of a page
# 11 Create better content than your competitors
Content marketing is a great way to increase traffic and sales, but that's just the good news.
The bad news is that it's not just you and if you want your content to work well, it's better than your competitors.
Before creating content, search for Google, Facebook, twitter ... and analyze what kind of content appears in the top positions.
Take note of things like content length, content type, content quality and format, and try to make your content better in every way.
Content that is not better than content that has been ranked in Google has no chance of getting high rankings.
So it is better to spend more time and make better content than to hurry to publish
# 12 Promote your content
Don't expect your potential customers to search your site directly
When you publish a piece of new content, you need to promote it to get it noticed.
There are many ways to promote your content without exaggerating and without any risks, so the next step right after pressing the publish button is to perform a good ad.
Your best option is social networking because the results are extremely quick and immediate but do not underestimate the power of email and RSS.
# 13 Arrange your content into categories
When you consistently market content for a few months (or even years), you end up with a lot of content and if it is not organized correctly then you get confused.
The best strategy is to organize your content into relevant categories and use tags, keywords and descriptions for search purposes.
Instructions related to this topic: Optimize SEO website structure
# 14 Optimize content for conversions
Last but not least, don't forget the main reason you create content is to increase conversions.
Depending on your situation, conversions can range from getting email subscribers, clicking on ads, to selling more products.
If your content does not produce good results, you need to change your content strategy and think of other ways to produce and promote the content.
Hiring a professional company is always one of your best options not only for better results but also gives you more time to focus on what you are doing best.
# 15 Invest in content marketing in the long run
To make money from content marketing, you first need to spend money and time.
If you already have a lot of traffic to your site and track a lot on your social networks, then with content marketing, you can try and turn those visitors into customers. That's not easy, but that is the theory.)
If that's not the case for you and you're just getting started, this means you need to spend money (or time value) on creating good quality content, building social networks and ranking your rank.
Eventually, you will get more traffic and gradually these will generate enough expected sales of the business (or click if you are using adsense as a way to make money) for you to make money. Profit from content marketing.
What I'm trying to say is that content marketing can help businesses grow financially, if you have the patience and money (or time) to get it right.
If you need results faster, you can start with adwords but if you want consistent results that can generate long-term stable profits then invest in content marketing.
How much does content marketing cost?
Let's say you have a small business that sells diet-related products. Your product is good, your website is modern and SEO friendly, but the market is very competitive and you hardly receive any traffic from Google or social networks.
What is the solution, how can you grow your business?
You can use Google Ads or Facebook ads to get traffic for your business and hopefully earn enough sales to cover advertising costs and make a profit.
If you continue to advertise that sale made a sale, if you don't, the ad drops to 0.
It's a working model but let's see how content marketing can turn things around and why to make money from content marketing, you have to spend money.
You decide to start a blog and give advice to people who want to lose weight or start dieting.
People will read your article and some of them will buy your product, right? Wrong.
First of all, if you start a new blog in a competitive segment, you won't get any traffic unless you advertise your content.
Even if you advertise your content, you get sales if your content is of top quality and this is part of investing in content marketing.
Solution
You have to spend time and money creating a content marketing plan that will identify the content (in this case, the actual blog title) that can satisfy your users and give you many opportunities. more in ranking.
You have to spend money to create real content. In a specific example, you have to hire a nutritionist to write articles that are accurate and convincing.
You have to spend money to perform these two steps consistently for a few months (or even years) until Google trusts you and until you have enough followers on social networks to LIKE and divide. Share your content for free.
Calculate the cost of content marketing
Assuming you publish 3 articles per week for 6 months and you spend an average of VND 350,000 per article (that's a low amount for top quality content), you end up with an initial investment of approximately VND 26,000,000
That cost doesn't include any money or time needed to plan, publish posts, and make sure they adhere to SEO criteria, etc.
The point I want to give with the above example is that while content marketing works well and that approach is not low cost (in terms of money or time) and this is why most businesses Small businesses fail with content marketing.
Creating a blog and putting content without purpose or value is a waste of both time and money.
CONCLUDE
Content marketing is important for all types of businesses. The benefits of content marketing are numerous and recent studies have shown that a large percentage (over 70%) prefer reading articles about a company over reading ads.
When designing your content marketing strategy, you need to find the right balance between content creation, user satisfaction, and conversion.