Note: Please read the article carefully before proceeding! If in the process of using you encounter any errors, such as broken download links, slow loading blog, or not being able to access a certain page on the blog ... then please inform me through the Contact page. Thanks!
#first. Introducing the Deepin operating system
Deepin OS was created by Wuhan Deepin Technology Co.Ltd, a company from Wuhan: Where corona outbreaks bùng (͡ ๏ ̮͡ ๏) ۶
Deepin is an open source operating system based on Debian Linux. According to many reviewers, as well as technology news sites, this is the most beautiful Distro Linux version, it even surpasses MacOS and Windows.
Deepin is the operating system that Huawei has chosen to install by default on their laptops (MateBook series). Because Deepin operating system is full of popular tools that are available on Windows and Mac OS.
Read more:
And in this tutorial I will guide you in detail how to install this operating system on your computer.
#2. Minimum hardware configuration for installing Deepin
In general, the minimum configuration to install Deepin operating system is quite low, it can run smoothly on an older machine.
CPU: 2Ghz and above.
Ram: 2GB or more.
Hard drive has at least 30GB of free space.
# 3. What should be prepared before installation?
A minimum USB of 4GB (preferably 8GB). Now USB is so cheap!
Download the Deepin operating system here (the operating system is free, so you should go to the homepage and download it)
Pre-partitioning an empty drive partition (if you want to override an old operating system partition, this step is not necessary).
See how to split a hard drive without software or split a hard drive with Partition Wizard software!

Note: As of April 15, Deepin will remove the 32-bit version. According to the reason they gave was the lack of manpower and limited resources. Maybe it's because the economy is still tight 😀
# 4. Instructions for creating Deepin Linux installation USB
Okay, now we will proceed to create the USB containing the Deepin installer first, with the Rufus software, you should download the Portable version to save the installation.
+ Step 1: Now run the software Rufus up => then you set as shown below:
(first)You press the key combination ALT + E to enable the feature to create USB install Windows on both UEFI and BIOS standards.
Device (2): You plug the USB into your computer => then select the correct USB you want to create. Normally, if you only plug in a USB stick, it will automatically recognize it.
Boot Selection (3): Click the button SELECT => then navigate to the Deepin installer that you downloaded in the preparation step.
Partition scheme (4): You leave the default is MBR it is OK.
Target system (5): After you press ALT + E, you leave the default as BIOS or UEFI Please.
Volume label (6): This place names just as you like, I will name after the version of Deepin is 15.11
File system (7): You leave the default as FAT32 (Default).
=> Then click the button START to begin.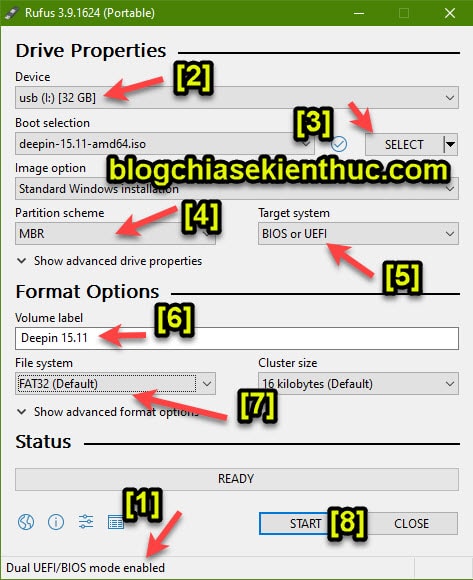 + Step 2: A window appears asking you to update Syslinux 6.03/20150425 => you just press Yes to agree.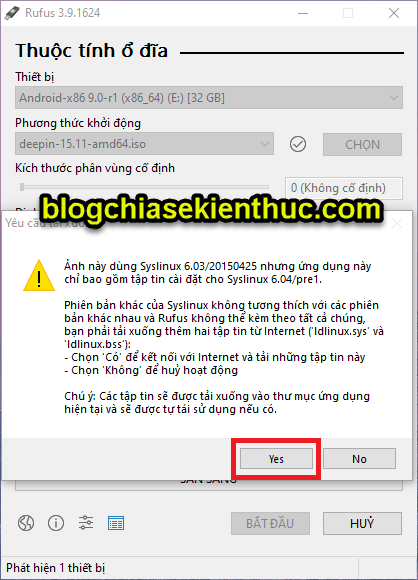 Continue to appear a dialog box asking you to choose the method to write the Deepin installer to USB => this step you tick the item Write in ISO Image mode (Recommended) - Record in ISO Image mode (recommended).
=> And press OK to continue.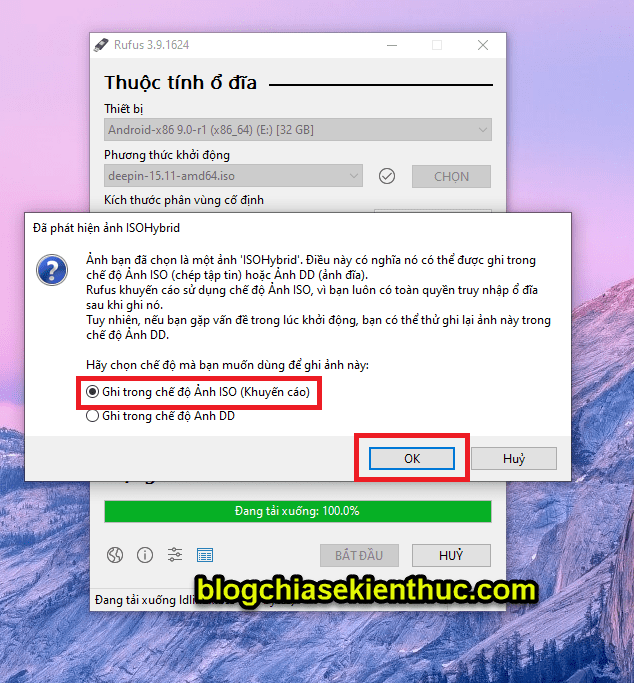 Finally, a warning window will appear that all data in the USB will be erased, so make sure that there is no important data in the USB.
+ Step 3: Now, just wait for the USB creation process to install Deepin. Speed ​​or slow it depends on the computer as well as your USB.
+ Step 4: Yes, after creating, turn off Rufus => restart the computer => and access BOOT MENU (usually ESC, F1 ... F12 key) => select USB Deepin to boot into.
// If you do not know, see the detailed tutorial on how to enter BOOT MENU that Admin has instructed.
+ Step 5: Once you have booted into USB => now you choose Install Deppin as shown below.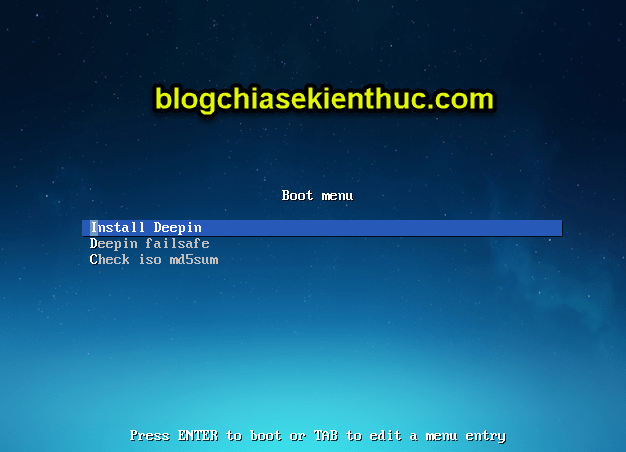 + Step 6: You choose the language => and tick the line I have read and agree to.... to agree to the terms of use of the program.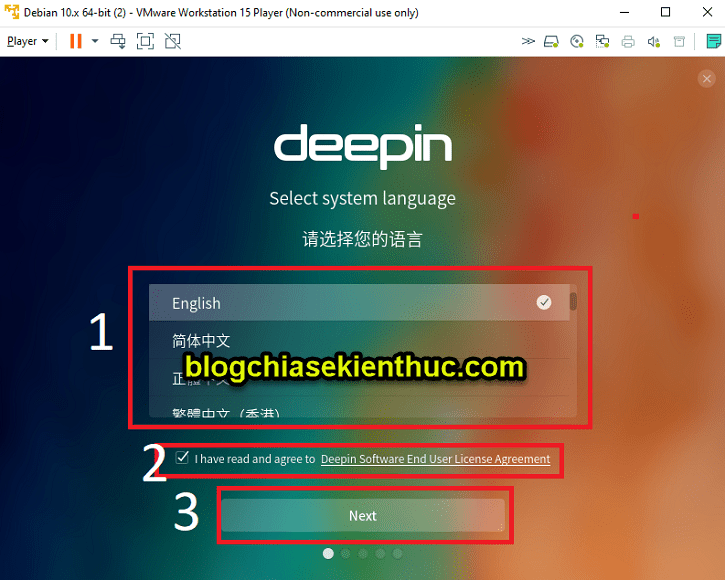 + Step 7: Next, you name and create a password for the computer.
Dialog 1: Enter the Username
Dialog 2: Enter the computer name.
Dialog 3: Enter the password for the computer.
Dialog Box 4: Enter the same password as dialog 3.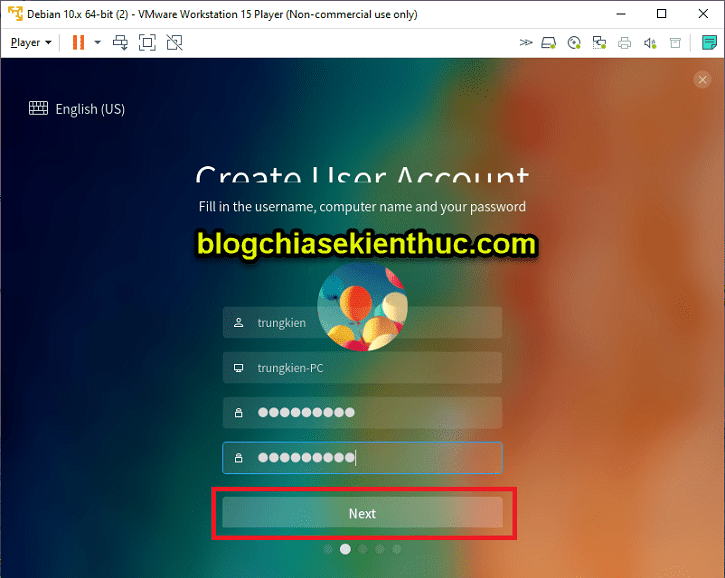 + Step 8: The next step is to select time zone => and then press Next.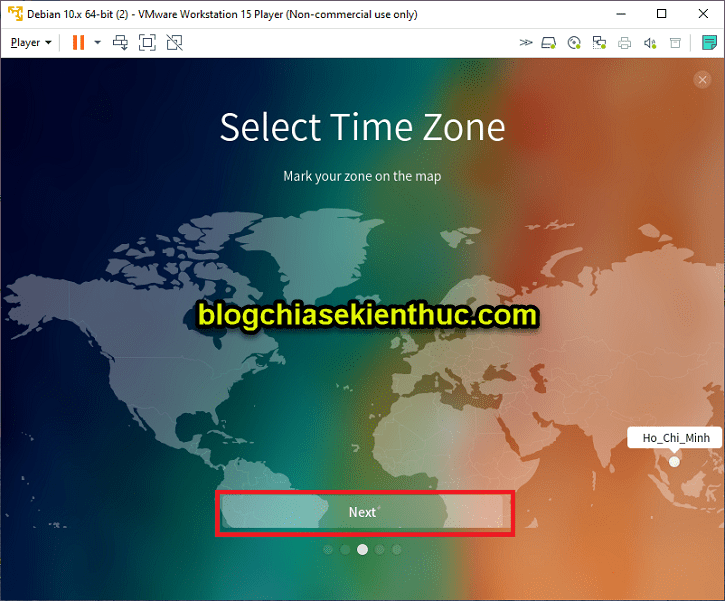 + Step 9: Go to this step, select the hard drive partition you want to install. If you want to set more, you can go to the section Advanced okay (here I am installing on a virtual computer should choose the drive always).
Specifically, we will have options such as:
Simple: Select 1 partition to install.
Advanced: Edit, resize partition.
Full Disk: Select the entire hard drive of the computer.
=> Usually we will choose Simple => and select the partition you want to install only. After making your selection, click the button Start Installation to start the installation process.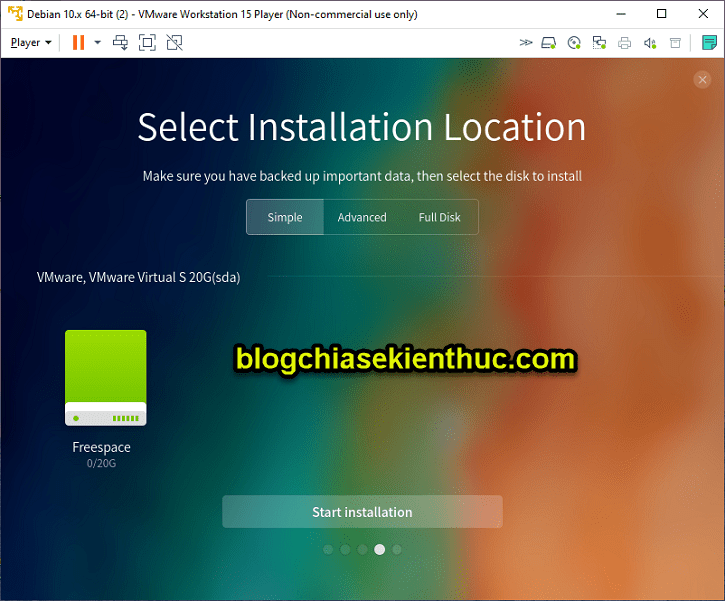 + Step 10: You just press Next or Continue if asked After that, I will make a cup of coffee to relieve sadness, because waiting for quite a long time (about 20 minutes), but if you use an SSD, it will be faster.
Okay, after installation is complete, you press the button Experience Now to start exploring and exploring 😛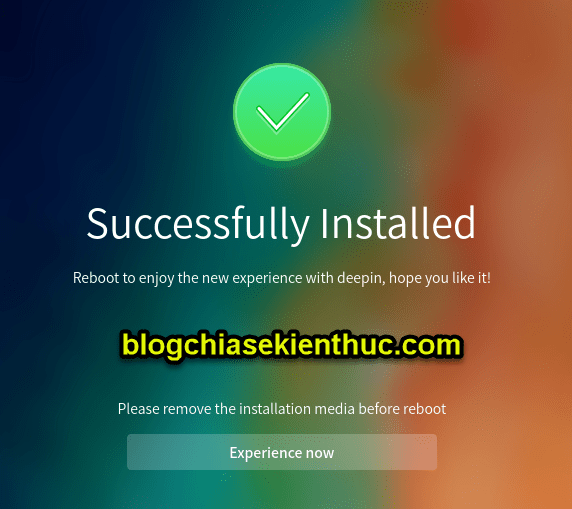 Oh forget, now your computer will restart => after booting, you can start using it right away.
# 5. Some pictures of Deppin Linux operating system
# 6. Epilogue
So I just gave very detailed instructions for you how to create a usb install Deepin Linux and at the same time I have guided you step by step to install Deepin operating system on the computer already.
I find this to be an excellent open source operating system, well worth the experience. If you are not confident that you can use this operating system right away, you can apply how to install 2 operating systems in parallel on a computer also.
Hope the article will be helpful to you, wish you success!
CTV: Trung Kien - Blogchiasekienthuc.com
Note: Was this article helpful to you? Do not forget to rate the article, like and share it with your friends and relatives!