Note: Please read the article carefully before proceeding! If in the process of using you encounter any errors, such as broken download links, slow loading blog, or not being able to access a certain page on the blog ... then please inform me through the Contact page. Thanks!
Taking a picture of a website is a regular thing to do for many of you here, on the blog, I have introduced quite a lot of software and utilities to support taking screenshots of this computer.
Fireshot is also such a utility, especially this utility also supports the old Microsoft Edge browser built into Windows 10. Operating system.
However, in this article I only show you how to use it on the new Microsoft Edge Chromium browser because the old Edge is about to be killed by Microsoft.
Read more:
#first. Fireshot supports taking pictures of websites quickly in a web browser
Fireshot is the name of a website capture utility that is available for both the old Microsoft Edge, the new Microsoft Edge Chromium browser, Firefox and other Chromium core web browsers.
This gadget has been voted as The best free extension on Google Chrome by PCMAG.COM in 2013. In addition, you can still use this utility normally without an Internet connection anymore.
To use Fireshot on your old Microsoft Edge, make sure that your Windows is Windows 10 Fall Creator (Windows 10 Version 1709) or higher.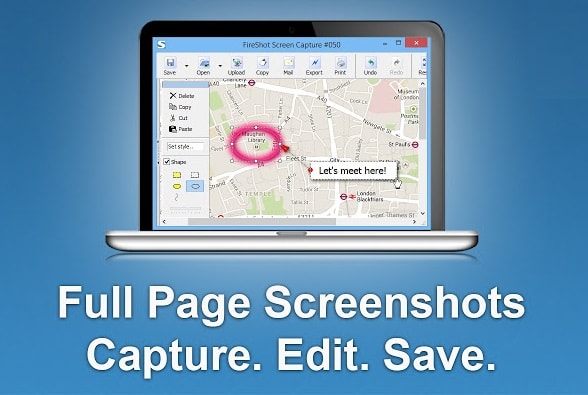 #2. Link to download and install the Fireshot utility
Visit the corresponding Store page of the browser you want to install, with Chrome, just press Thêm vào Chrome and Add extensions:

After installation, click on the icon of Fireshot, you will have choices of shooting modes such as:
Capture the entire page (Ctrl + Shift + Y): Support capturing entire web pages, the utility will automatically scroll the page and capture all parts of the web page.
Capture visible part: Capture the part of the web page currently displayed on the browser screen.
Capture selection: As you probably know, capture the area of ​​your choice by dragging and dropping the mouse.
Select the type you want to capture by clicking the corresponding option.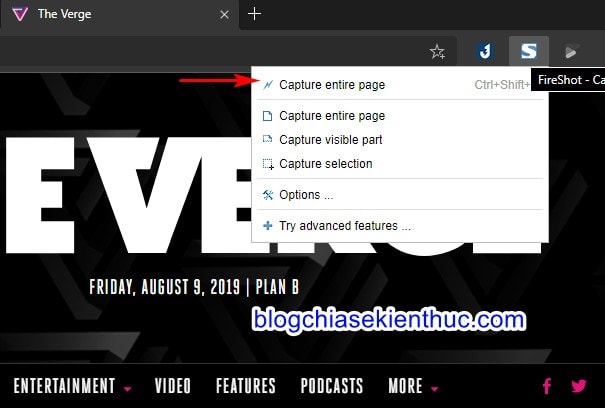 Another way to activate the utility is, right-click on the website you want to capture => select Take webpage Screenshot Entirely – Fireshot And you also have options like when clicking on the icon of the utility only.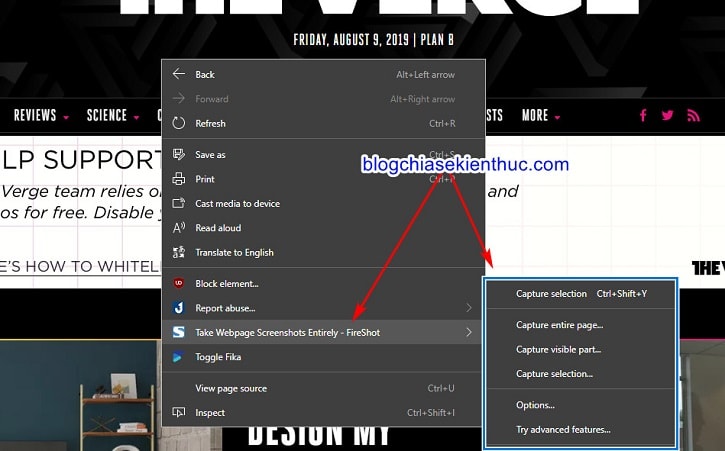 After shooting, you will have an option to save the image like this, you have the following options:
Save as Image: Click on Save as image To save the image as a PNG, you can convert it to JPG in the settings, which I will talk more about later.
Save to PDF: Save this image as a .PDF file, or you can save the image and convert it as well.
Email: Send the captured image via Gmail, click to select the type of file sent as PDF, JPG and PNG
Copy to clipboard: Copy the Clipboard image, you just need to right click on the image Copy Image.
Print: Print the image.
Click Try it Free and Buy Pro to try Fireshot's paid software on Windows and upgrade to PRO
=> Select Save as Image to save photos to computer.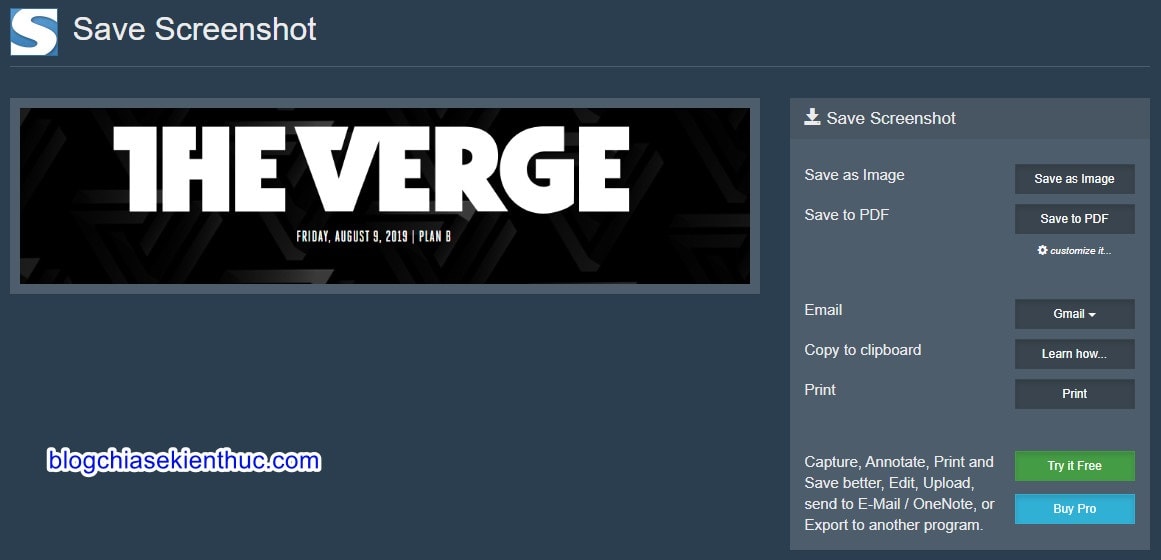 If you do not want to save the image in PNG format, you can completely convert it to JPG by clicking on the utility icon => and selecting Options.
Or click on customize it... on the options page to save the image after taking it.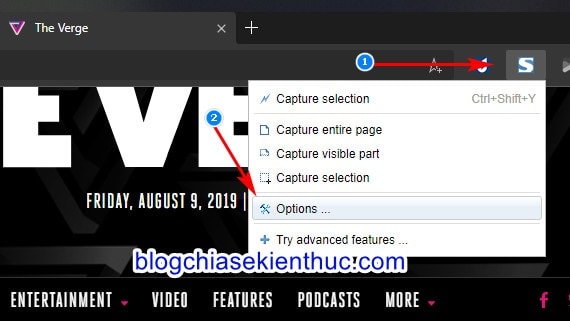 Here, you will have the following settings for taking photos such as:
Save image as: Save the image as PNG or JPG, this is up to you ..
Do not show "Save as": Do not show the Save as window so that you can choose a save location and file name, which will save with the default name and folder.
Close tab after saving: Close the image saving tab that appears after the picture is taken.
Default Ouput-folder: The default image storage directory, the default is Fireshot.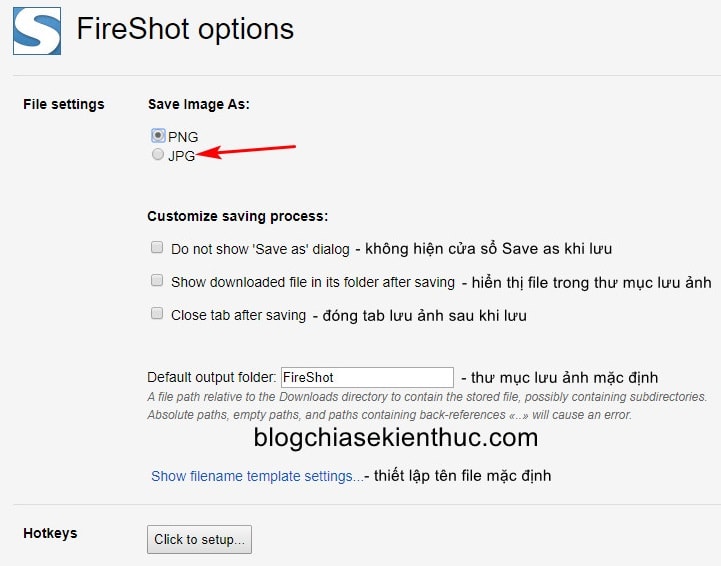 Show filename template settings: The default file name saving setting is created by Fireshot, you can reset it yourself - just leave the default.
Hotkeys: Set up keyboard shortcuts for faster operations.
FireShot API: Enable Fireshot's API.
Miscellaneous: Fireshot's PRO feature, this one pays.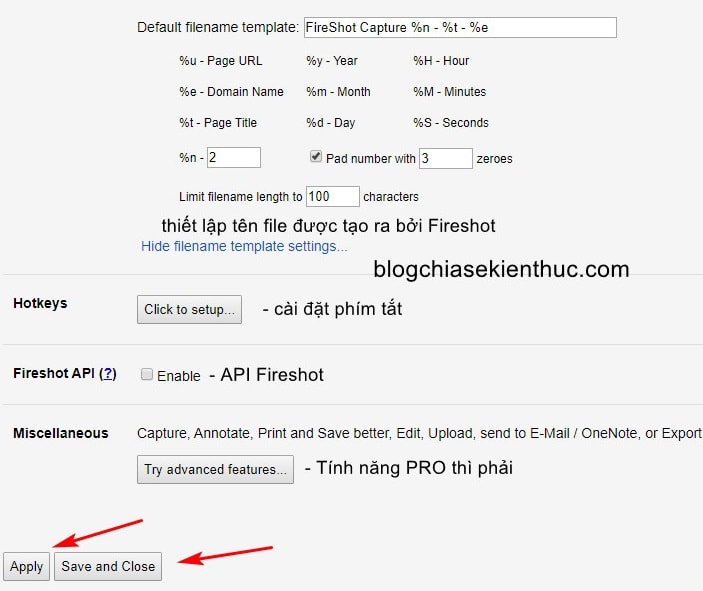 => Installation is complete then you Apply or Save and Close to close setup. You can now start using this utility.
Epilogue
So I just introduced you one more utility that supports computer screen capture named after Fireshot.
In general, Fireshot is a pretty good photography utility, and hopefully through this article, you will have one more choice in taking screenshots of websites. Good luck !
CTV: Nguyen Thanh Tung - Blogchiasekienthuc.com
Note: Was this article helpful to you? Do not forget to rate the article, like and share it with your friends and relatives!